President Trump has been fairly given much of the credit for the economic upturn in America.
The stock market has broken more records than we can count, unemployment is down, wages are up, and tax cuts are about to make most Americans' checks a lot bigger.
But this past week has shown that some things that go up must go down, and the market is getting the jitters about seeing the market rise at unprecedented rates.
Some in the media are finally giving Trump the credit for the trillions in newly created wealth, so should America blame him for the latest declines?
According to Rasmussen, the answer is quite surprising, not only to the average American but especially to former President Obama.
From Gateway Pundit:
Since his electoral landslide in November 2016 Donald Trump has had to deal with spying by the Obama administration, a corrupt deep state special counsel on Russian collusion, a lackluster economy, a foreign policy disaster, and a radical far left mainstream media that reported negative hit pieces on the new president 90% of the time.
Despite all of this bad news President Trump holds a 48% approval rating today in the Rasmussen daily tracking.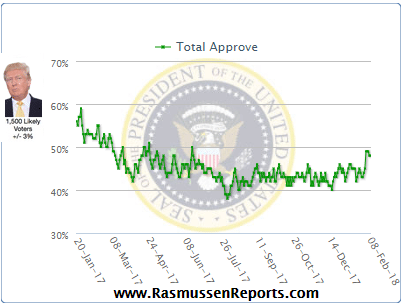 The Rasmussen Reports daily Presidential Tracking Poll for Wednesday shows that 48% of Likely U.S. Voters approve of President Trump's job performance. Fifty-one percent (51%) disapprove. The latest figures include 34% who Strongly Approve of the way the president is performing and 42% who Strongly Disapprove. This gives him a Presidential Approval Index rating of -8.
Alright, so is an approval rating under 5o% percent really something to get all excited about?
It absolutely is, especially when you compare Trump's rating with that of his predecessor.
President Trump has a stronger approval rating today than media darling Barack Obama did back in 2010 on this same day.
Back on February 7, 2010 Barack Obama had an approval rating of 44% while 56% of likely voters disapproved of the far left president.
The mainstream press continues to present Obama as if he was the greatest thing since sliced bread while also incessantly contending that everyone absolutely loved him and his leadership. Reality tells a vastly different story.
The former commander-in-chief did some serious damage during his eight years in office, and those that are capable of thinking for themselves are well aware of that.
Those same folks are quite cognizant of the progress that has been made under Trump's leadership, and there's no web that the Democrats can weave that will change that from being the case.
Source: Gateway Pundit, Rasmussen Reports