2020 Post-Impeachment Poll Rattles Washington – Liberal Pollsters Admit President Trump Is Beating Every Democrat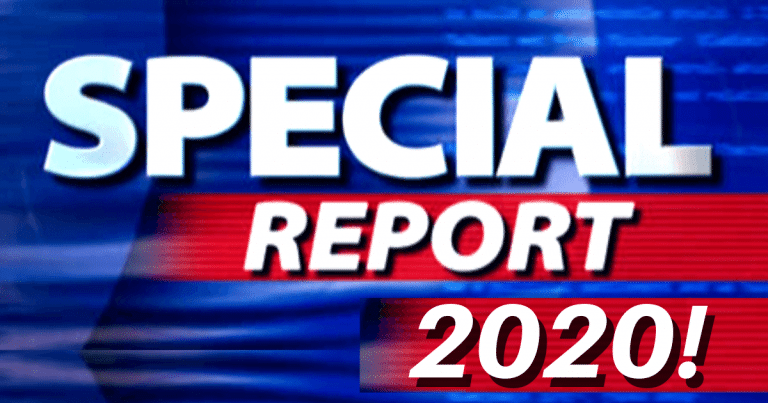 Looks like the Democrats' scheme to impeachment Trump is backfiring—so SAD for them!
After all, what was impeachment really about? It wasn't about a phone call with Ukraine. Come on, let's get real.
This was all about hurting Trump. Specifically, Democrats wanted to hurt his chances at winning in 2020.
Democrats went on a propaganda campaign. They tried to convince Americans that Trump was a law-breaker and needed to be impeached.
(Even though, after all of it, Pelosi refuses to finish the job.)
So has it worked? Has the left's impeachment scheme doomed Trump's 2020 chances?
A liberal pollster wanted to find out. They released their first post-impeachment 2020 numbers.
And guess what? It doesn't look good… for the Democrats.
From the Federalist Papers:
The most recent  YouGov/Economist poll on "electability" shows President Trump running away with the 2020 election.

The poll showed that 47 percent of respondents believe that former Vice President Joe Biden would "probably lose to Donald Trump" with only 40 percent saying Biden would win.

In the poll the president also led Vermont Sen. Bernie Sanders and Massachusetts Sen. Elizabeth Warren by margins of 57 percent to 31 percent and 57 percent to 27 percent respectively.
Wow. Talk about the upset to end all upsets!
A recent poll on "electability" shows that President Trump is dominating the Democrat "frontrunners."
How bad is it for the Democrats?
Trump is beating Joe Biden (the "shoe-in") by 47 to 40. Keep in mind, Biden is the only Democrat considered "moderate" and "safe" by experts.
It only gets worse from there on out.
Trump is destroying Warren by 57 to 37. Uncle Bernie? He's losing to Trump 57 to 27.
Those are some really, really bad numbers. They're not even close.
This should tell you something about the state our country is in.
Democrats say we are "divided." But it seems like we can all agree on two things: impeachment was a sham and the left is doomed.
Americans are watching a once-respected party fall apart at the seams. Every last 2020 candidate (even Biden) is lurching to the far-left.
Few Americans want that. They like prosperity and don't want socialism.
The rest of the Democrats in D.C.? Americans are watching them launch a pathetic coup against our president.
Not great, you guys. You ran in 2018 claiming you'd "work with" Trump. Instead, you wasted your time trying to impeach him.
SHARE if you're going to be part of Trump's red wave re-election!
Source: The Federalist Papers