Betting Site Makes Midterm Prediction – PredictIt Claims a Wave Is Coming Fast to Swamp the Democrats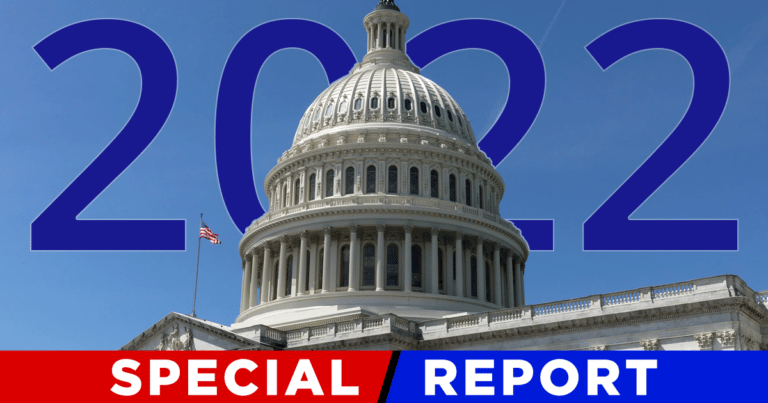 What's Happening:
Pollsters and other media outlets have been scrambling to predict the outcome this of year's midterm elections. Much is riding on these races, including Congress and state and local governments. Polling has been up and down over the year, with some polls giving Republicans a lead going into November.
Democrats have tried to make this race about Republicans and Trump. They've done what they could to distract from Joe Biden's failures–not to mention their own. But one website is showing signs of how these midterms are going to shape up. And they are putting their money where their mouths are.
From Daily Caller:
Share prices on the betting website PredictIt suggest that gamblers heavily favor the Republican Party to win control of both the U.S. House of Representatives and the U.S. Senate…

The election markets show buyers are bullish for the GOP, with Republican shares trading at 88 cents and Democratic shares at 13 cents on the question of which party will win the House in 2022, PredictIt shows. The platform showed that the fate of the Senate is less clear but still favors the GOP, with Republican shares trading at 61 cents while the Democrat shares were at 41 cents.
Oddly enough, the CFTC allows PredictIt to run bets on elections for "academic purposes." Uh-huh, sure. The website runs betting for the upcoming midterms, letting users place bets on which candidates they think will win.
As with most betting, the more likely a candidate is to win, the larger the price. And it seems betters on this website are convinced Republicans are going to win big on Election Night. Bets on Republicans taking the House are currently at 88 cents a share, while Democrats are only 13 cents.
In the Senate, it's closer, but Republicans are still favorites to win. Shares for GOP are at 61 cents, while shares for Democrats are at 41 cents. It looks like folks on PredictIt are confident that Republicans are going to have a very good night.
Why should we care? This is an interesting sign of a coming red wave that few people are even looking at. These betters are doing more than talking. They are putting their money on the results of the November elections. Not something we'd recommend, but if you are a seasoned gambler, you know not to back a losing horse.
The fact that so many people are banking on a GOP victory shows us just how many people believe Republicans are going to win. That's consistent with much of the polling that is coming out, but avoids the bias that can taint traditional MSM polling.
So, will these betters win big in November? That's really up to the rest of us who are going to the polls.
Key Takeaways:
Betting website PredictIt is selling bets on the outcome of the 2022 Midterms.
Republicans are the favorites to win the House and Senate, with bets much higher than Democrats.
The betting trends reveal that most betters believe Republicans will win big in November.
Source: Daily Caller