Power-Packed 2024 Team-Up Revealed – This Ticket Could Ride the GOP Straight to Victory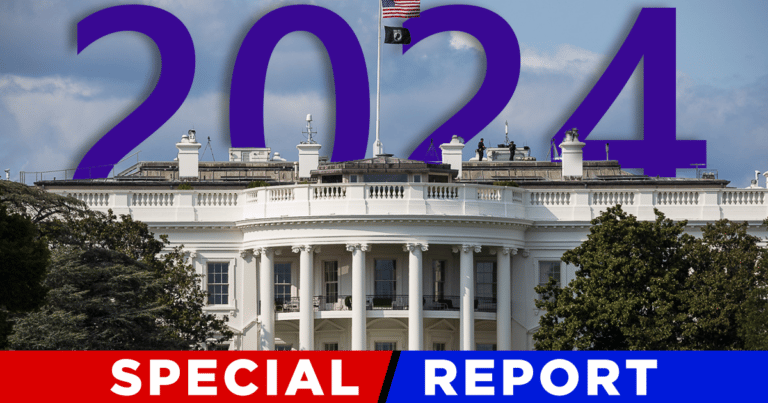 What's Happening:
Plenty of people are trying to make sense of the 2022 midterms. But everyone seems to agree that the lessons learned can have a huge impact on the 2024 Presidential Election. Some are suggesting major changes to the GOP approach.
Others are hailing frontrunners that can lead the party to victory. But one long-standing conservative figure is making a surprising suggestion. And he is saying the Democrats cannot beat this 2024 matchup.
From Just the News:
Do the unthinkable — form a Trump-DeSantis super ticket…

…nearly every expert interviewed for this story — including Democrats — suggested it had the chance to create a generational alliance under the America First brand with a decade or more of winning consequences for Republicans.
John Solomon suggested that a Trump-DeSantis ticket for 2024 would be so powerful, it would crush Democrats for years to come. He pushed this idea, saying that an intraparty war between these two men could be far too costly.
Instead of donors wasting millions running ads against GOP candidates, all that energy could be directed against Democrats over the next two years.
He pointed out that both men have egos that they'd have to put aside. But he believes both are smart enough to know that a Trump-DeSantis ticket would be unbeatable. Democrats don't have anyone remotely good enough to beat those two, and definitely not a duo.
The alternative would be an ugly battle between Trump and DeSantis that would leave one of both "severally wounded." And nothing would please Democrats more than Republicans fighting each other over the next two years–as Biden continues to destroy the country.
Solomon also gave great advice to Donald Trump. He said that when Trump "carries the burdens of the American people," he is invincible. But when he "carries his own political and personal grievances" by attacking Republicans, he becomes "unbearable" to certain voters.
Perhaps for the good of the party and country, both these two GOP giants can come together. Just imagine the power of a Trump-DeSantis alliance. Nobody on the left would have an answer to that. Democrats would be running scared.
All of their schemes would crumble in front of their very eyes. The only question is, will it happen?
Key Takeaways:
A top conservative is recommending a 2024 Trump-DeSantis ticket.
Solomon suggests Democrats would be easily defeated by this powerful duo.
He also recommended Trump stop attacking Republicans and focus on America's challenges.
Source: Just the News