2nd Amendment Could Be in Jeopardy – Michael Moore's 28th Amendment Would Repeal and Replace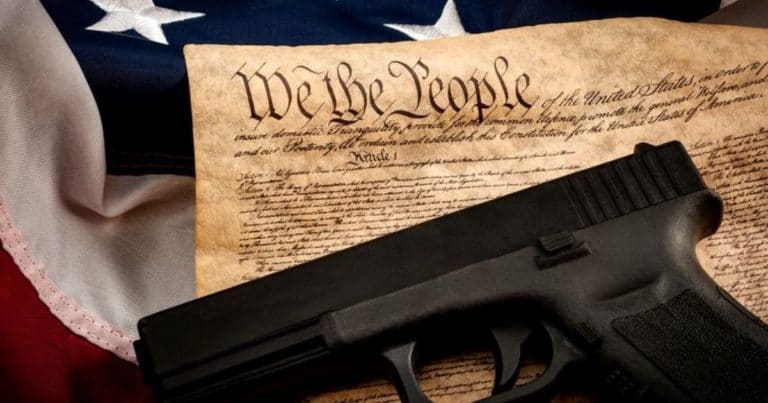 What's Happening:
Democrats continue to push radical gun control, in the aftermath of high-profile shootings. They fail to acknowledge that the very strict gun laws in blue states already have failed to stop these tragedies.
But never let it be said that facts get in the way of socialist Michael Moore's agenda. Because he just realized an "amendment" that would make Stalin cheer.
From The Daily Wire:
Filmmaker and activist Michael Moore proposed a new amendment to the U.S. Constitution on Sunday, saying that the American people should be afforded the right to be kept safe both from gun violence and the fear it could affect their lives…

"The inalienable right of a free people to be kept safe from gun violence and the fear thereof must not be infringed and shall be protected by the Congress and the States. This Amendment thus repeals and replaces the Second Amendment," Section 1 of Moore's proposed amendment read.
Socialist activist Michael Moore hilariously released a "28th Amendment" that would repeal Americans' right to bear arms.
The amendment would ban the ownership of firearms in nearly every situation. Only under very specific circumstances could Americans register with the federal government to buy a weapon.
And only for "hunting and target shooting." If someone needed a gun for protection, they would have to prove to the government why they need one.
We've seen how unwilling the government is to grant licenses. When citizens have to "prove" a need to carry a firearm, they are almost always denied it.
Even people who prove they are in danger, because they live in a high-crime neighborhood, states like New York historically denied them.
But that's beside the point. Moore is delusional if he thinks anything like this makes sense. He claims it is our "right" to be "kept safe from gun violence."
Yet he bans the very thing that would keep us safe from gun violence: responsible gun ownership.
Democrats' limited view of the issue suggests only when we ban guns, there will be no gun violence.
They expect us to forget that every, and I mean every, dictator and tyrant that has ever lived first got rid of gun rights in their country.
That's because, when the people are defenseless, they can't fight back against tyranny.
Which is the very reason why our Founding Fathers included the Second Amendment. They weren't willing to trust the liberty of the country to future politicians.
Moore knows that. He's not an idiot. This entire "amendment" is a ruse to convince Americans to give up their guns.
So that only the rich and those in the government will be safe.
Key Takeaways:
Michael Moore proposed a new "amendment" that would revoke the Second Amendment.
The new "amendment" would ban firearms, except in rare cases.
Few Americans would be allowed to carry a firearm, under such rules.
Source: Daily Wire