CNN Just Betrayed 'Pencil-Neck' Adam Schiff – The Democrat Gets Barbecued by Liberals over Past Statements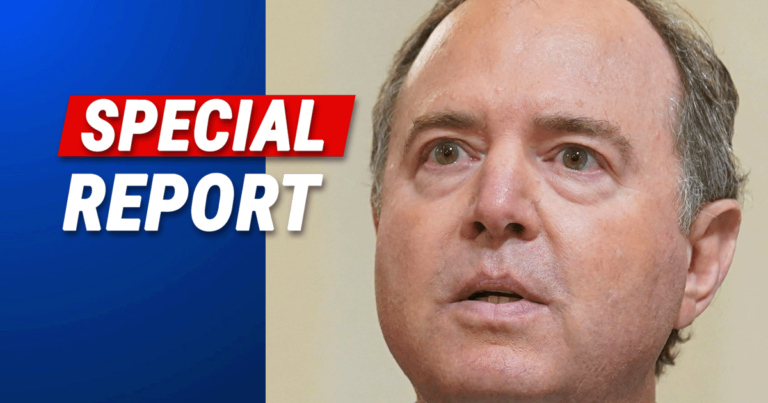 What's Happening:
With Kevin McCarthy as the new House Speaker, the Democrats are no longer running amuck in the House. Several Democrats known for sordid behavior were recently kicked off of powerful committees. One of those Democrats was Rep. Adam Schiff.
The California lawmaker was the face of the Democrats' first impeachment attempt against Donald Trump. Schiff used his privilege on a committee to make bold claims about Trump. But now, even CNN is done with this man. And they just blasted him.
From Daily Wire:
Rep. Adam Schiff… faced scrutiny during an interview on Sunday over past examples of him allegedly politicizing intelligence information for partisan gain…

"You said that there was direct evidence of the fact that Donald Trump colluded with Russia… Republicans argue that's proof that you used your position the Intelligence Committee to intentionally mislead Americans, which is why you should not be on that committee."

"Ahead of the first Trump impeachment, you said the committee had not spoken to a whistle-blower," Bash said. "In fact, that turned out not to be true."
Lol, this is rich. Adam Schiff went on CNN to whine about losing his important seat on the House Intelligence Committee. But host Dana Bash was not at all sympathetic. Instead, the news host grilled Schiff over the claims he made about Donald Trump.
Claims, which proved not to be true.
Back in 2019, Schiff appeared constantly on TV claiming he had proof Trump colluded with Russia. He said he had "direct evidence." Bash quoted Robert Mueller who said his investigation did not "establish" that Trump or anyone he worked with colluded with Russia.
Bash pointed out that Schiff "intentionally misled" America, which is why Republicans kicked him off the committee. Of course, Pencil Neck tried to rewrite history, saying the report did not say what Bash literally read to him.
She hit him with another example of his dishonesty. This time over his claims that he spoke directly to a whistleblower who supposedly outed Trump. But that wasn't true either. Schiff tried to weasel out of this question, claiming he did mean what he said.
It's pretty shocking to see CNN–the left-leaning, Democrat-protecting network–actually hold a Democrat accountable. It's probably because Schiff is no longer powerful in D.C. and CNN loses nothing by attacking him.
But the real crime is that Schiff spent years lying to Americans–but is still in office. He may have lost his committee seat, but he still sits in the House.
What's worse–this guy plans on running for senator!
Key Takeaways:
CNN grilled Adam Schiff over false statements he's made over the years.
Schiff was complaining about losing his powerful committee seat.
CNN called out several times he lied about Donald Trump, while he was impeaching him.
Source: Daily Wire