Adam Schiff's Town Hall Goes South – Trump Supporters Quickly Turn The Tables On Him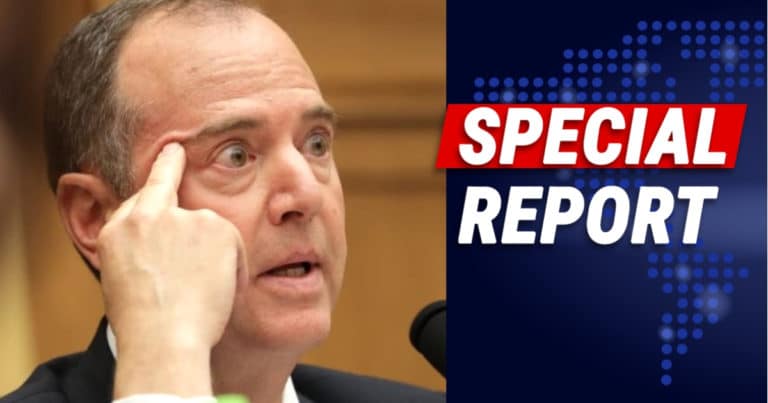 Trump's supporters are not staying quiet anymore!
At this point in the impeachment proceedings, one thing is clear:
Many American citizens are sick and tired of this mess.
Donald Trump supporters keep rising up to defend their President, and impeachment Democrats are hearing about it.
Maybe the best example of this just happened during a California town hall meeting…
Things were going along as planned, then some attendees began to slam House Intelligence Committee Chairman Adam Schiff.
Shifty Schiff definitely got an earful!
Via Fox News:
A California town hall meeting featuring House Intelligence Committee Chairman Adam Schiff, D-Calif., descended into chaos after jeers led to clashes among attendees.
These patriots are fighting back!
You clearly hear shouts of "liar!" and many crushed Schiff for continually going after Trump.
Some attendees got VERY animated, too:
You will be going to jail for treason!  …this man is a f—–g liar!
And it only got crazier after that.
Physical encounters broke out not long after, and Schiff had to leave the podium as chaos ensued.
Nobody suffered injuries, but it was obvious that many people in that audience are FED UP with Schiff and the impeachment farce.
We're starting to see the backlash everywhere, too.
At another town hall meeting with Rep. Elissa Slotkin (D-Mich.), pro-Trump attendees nailed her with a chorus of boos and catcalls.
What does this tell you, Democrats?
It should tell you that the average citizen is tired. We're tired of the endless attacks on our President.
We're also tired of Democrats not playing by the rules, and completely ignoring due process.
And we're not going to stand for it anymore!
SHARE if you're one of President Trump's many vocal supporters!
Source: Fox News