After Admirals Order Boater To Remove Trump Flag – He Adds A Patriotic Wrap And Donald Thanks Him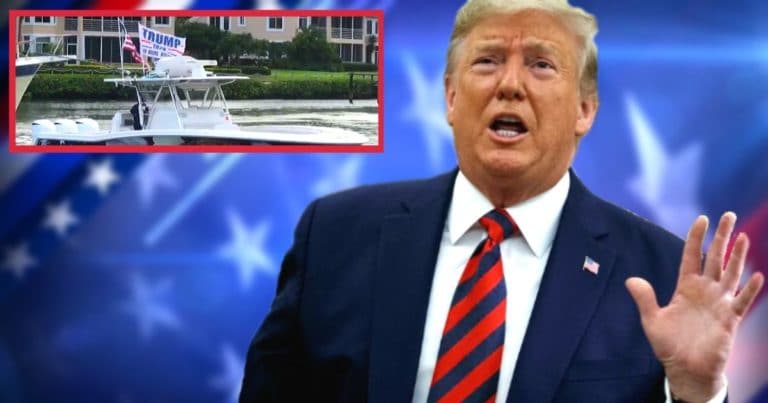 You've got to hand it to Trump supporters. They show real guts when they stand up for their president.
Just look at this man who proudly flew a Trump flag on his boat. His neighbors didn't like it, so they got their club admirals to order him to remove it.
Pretty petty, huh? Well, that didn't keep this Trump-loving American down for long. And the president himself noticed.
From Twitter:
Very cool. Please thank him! https://t.co/7nc79fCFip

— Donald J. Trump (@realDonaldTrump) May 2, 2020
Very cool. Please thank him!

The owner had put a Trump flag on his dock and the people across from his house complained to the club. Admirals told him that he had to take the flag down. The guy got pissed & sent his boat to get wrapped. This was a video of him bringing the boat home after. @realDonaldTrump
Woah. So, the admirals told this Trump supporter he could not fly a flag with Trump's name on it. Apparently his First Amendment rights ended at the water's edge.
This boat owner was not about to bow to the demands of his liberal neighbors. So, he got his ENTIRE boat wrapped with Trump's name.
He covered the boat with an American flag and a proud bald eagle, alongside Trump's name.
The president was so impressed with what he did, he retweeted the video and asked to thank the man.
Can you imagine someone trying to get their neighbor in trouble just for flying a flag? What's wrong with a harmless flag with the president's name on it?
I bet those neighbors weren't expecting him to come back with a bigger image of Trump's name on his boat!
Hmm… maybe they should have just kept their complaints to themselves?
SHARE if you are proud of your President!
Source: Twitter