After 9 Advertisers Drop Tucker's Show – Carlson Says Black Lives Matter Is The Most Powerful Political Party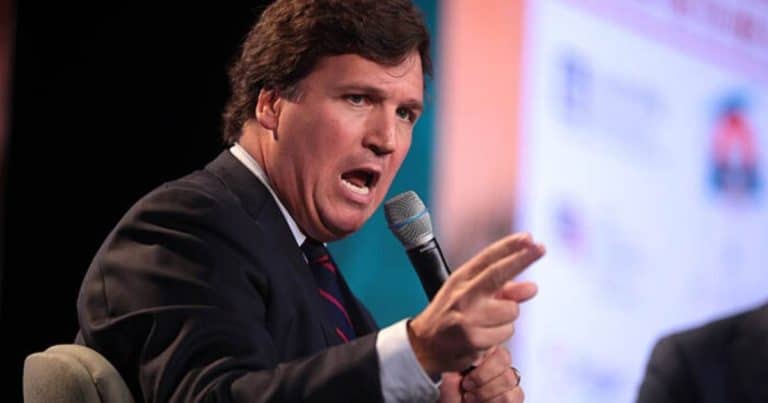 Fox News host Tucker Carlson has been speaking out against the ongoing agenda of Black Lives Matter for the past weeks, but not without consequences from the left.
In response, there has been pressure from the left to convince corporations to drop their advertisements from Tucker's show.
To date, companies that pulled ads from his show include Disney, Vari, Papa Johns, T-Mobile, Proactiv, IAC (HomeAdvisor and Angie's List), Smile Direct Club, Jackson Hewitt Tax Service, and Poshmark (according to Media Matters).
In response, Tucker Carlson isn't backing down. Instead, he's calling out Black Lives Matter itself:
Tucker Carlson opened Monday's edition of "Tucker Carlson Tonight" with a discussion of the popularity of the Black Lives Matter movement, describing it as the first political party that cannot be criticized without professional or personal consequences…

"Black Lives Matter is not a collection of marchers with signs. It's not a conventional political lobby like Planned Parenthood or the NRA … It is working to remake the country and then to control it. It's a political party."
Why is Tucker Carlson's response to this pressure so important?
Media Matters has a history of trying to get notable conservatives taken off the air by pressuring corporate America to cease their commercial support.
The strategy worked in the past, helping get famous commentator Bill O'Reilly fired from Fox News. Media Matters tried to get Sean Hannity taken off the air as well, an effort that failed.
Now they're keeping count of the advertisers that have dropped Tucker's show.
Carlson is calling out Black Lives Matter, saying they are acting essentially a political party by the amount of power they are wielding to affect public policies.
But unlike other parties, criticizing BLM has been branded "racist" by a growing movement from the left.
Major companies have voiced their support for the organization. It's not a surprise that, from pressure by Media Matters, these same liberal-run companies would cave and pull ads from Tucker's show.
Carlson accuses Black Lives Matter of masquerading as a Civil Rights movement. Instead, they appear to be an aggressive wing of the Democrats—who could be hiding behind race to avoid scrutiny.
Tucker Carlson's success—or failure— in fighting these advertising attacks and continuing to use his 1st Amendment rights to speak his mind could define whether others will continue to speak out under pressure.
Key Takeaways:
Media Matters pressured numerous companies to pull ads from Tucker Carlson's show after he criticized Black Lives Matter.
Carlson accused BLM of not being a Civil Rights group, but a political party that is immune to criticism.
Source: Fox News, Media Matters