After Biden Doubles Down on MAGA Strike – 56% of Voters Tell Joe His Rhetoric Is "Designed to Incite Conflict"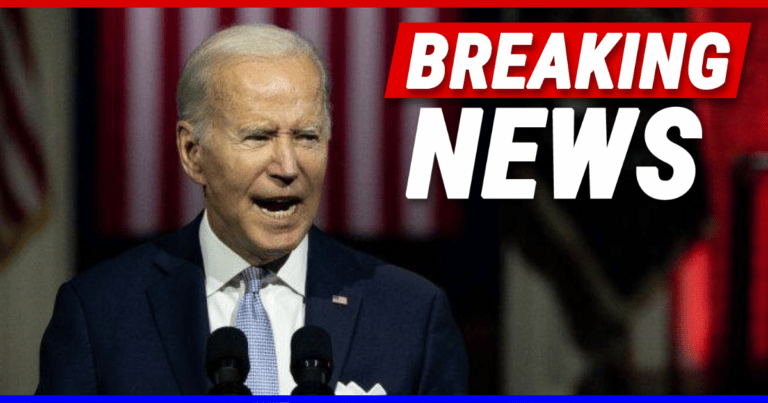 What's Happening:
Nobody is fooled by Biden's recent attacks on "MAGA" America. Just a few months before major elections, Biden is trying to distract from his dismal record.
He is trying to make this election about a man who is not even running. He even doubled down on his infamous Independence Hall speech this Labor Day.
From Fox News:
President Biden on Monday attacked "MAGA" GOP members of Congress in a Labor Day speech in Wisconsin as the president steps up his broadsides against Republicans ahead of the midterms…

Biden added: "But the extreme MAGA Republicans in Congress have chosen to go backwards, full of anger, violence, hate and division."
So, after backtracking his hateful comments, Biden continues them. Smart. But it doesn't seem that voters are fooled.
Because a recent poll reveals that Biden is about to suffer major blowback.
From Twitter: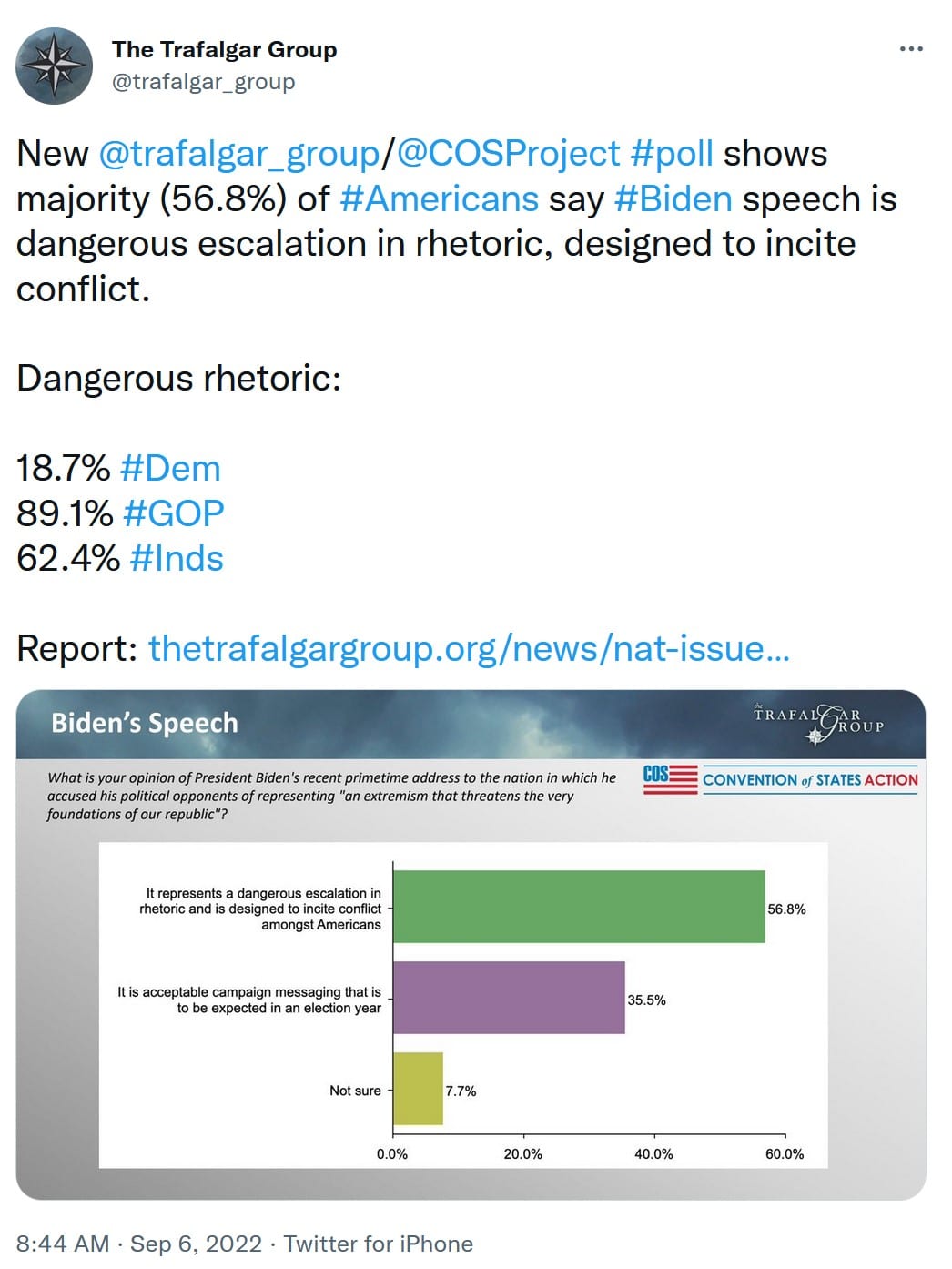 New @trafalgar_group/@COSProject #poll shows majority (56.8%) of #Americans say #Biden speech is dangerous escalation in rhetoric, designed to incite conflict.

Dangerous rhetoric:

18.7% #Dem
89.1% #GOP
62.4% #Inds
Joe can't help himself. After his "semi-fascist" and "threat to democracy" speeches, he appeared to try to backtrack his aggressive attacks against Republicans.
But the dust didn't even settle before he was back on the attack, calling "MAGA" Republicans in Congress "full of anger, violence, hate and division."
Ironically, Biden appears to be the only person full of anger and hate. His reckless language comes off as a desperate attempt to distract voters from his terrible record after one and a half years in office.
It doesn't seem most Americans agree with old Joe. A new Trafalgar poll reveals that a majority of Americans, 56.8%, think Biden's speeches are "inciting conflict."
They even believe they are "dangerous."
Only 35.5% of those asked disagree, showing that America is against Biden on this one.
While only 18.7% of Democrats considered Biden's words dangerous, a whopping 89.1% of Republicans and 62.4% of independents do.
Which means that the people Biden is attacking aren't a "minority fringe" of the GOP. The vast majority of the party believes Biden is wrong, as do non-affiliated voters.
Biden and his party might soon regret this latest strategy.
Key Takeaways:
Joe Biden doubled down on his attacks, slandering "MAGA" Republicans in Congress.
A new poll revealed that 56.8% of Americans condemned Biden's words as dangerous.
Biden appears to be trying to distract from his failures as we near the midterms.