After President Biden Fires Off Tank Announcement – Both Trump and Russia Respond to Major Ukraine Escalation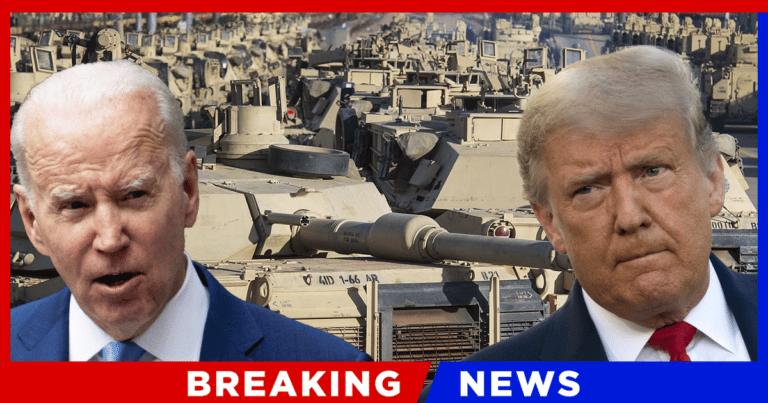 What's Happening:
Most Americans seem to be turning on Biden's endless support for the Ukraine war. We are facing a recession, as inflation hurts all Americans. Yet Biden is dumping billions into ensuring this war never stops. And he just announced more money going to the military-industrial complex.
From The Epoch Times:
The president said during a White House announcement that the United States will send 31 tanks to Ukraine, adding that the "U.S. and Europe are fully united." He reiterated that the tanks are "not an offensive threat to Russia."
Really? Tanks are not an "offensive threat" to Russia? What are these peaceful tanks? Do they fire flowers from those cannons? Biden seems to be hitting the gas pedal on this bloodshed. And Trump had a dire warning for old Joe.
From TRUTH Social:
FIRST COME THE TANKS, THEN COME THE NUKES. Get this crazy war ended, NOW. So easy to do!
Trump urged the United States to help end this war. Yet Biden is only doing the opposite. So, Russia decided to react to his latest decision.
From Yahoo News:
Russia said on Thursday it saw the promised delivery of Western tanks to Ukraine as evidence of direct and growing U.S. and European involvement in the conflict…

"…everything that the alliance and the capitals I mentioned are doing is seen as direct involvement in the conflict. We see that this is growing."
Uh… no kidding! A Kremlin spokesman said they view this gift of tanks–from the U.S. and other countries–as a sign that the West is becoming increasingly involved in this war. Because it is. Instead of urging Russia and Ukraine to negotiate a ceasefire, Biden is giving them tanks!
And that's not even good enough for Zelensky. Because now, he wants F-16s! Are you kidding me? Are we supposed to sit back and not think this is a ruse to start a war with Russia? Biden and his goons have reason to want to start a big, distracting war. As he continues to fail to lead the country, he can blame it on this "war" with Russia.
He might even use that as a chip for his re-election bid. All bad leaders start wars to distract from their failures. Only Trump actually ended conflicts around the world. But Biden is nothing like Trump. He is a weakling that needs as much chaos and commotion to hide his failures.
First tanks, then perhaps nukes. Trump's not fooling.
Key Takeaways:
Biden pledged to send tanks to Ukraine, to escalate the war with Russia.
Trump warned nukes will be used next, calling for peace.
Russia views the gift of tanks as more Western involvement in the war.
Source: The Epoch Times, TRUTH Social, Yahoo News