After NYT Editor Resigns For Running Republican Article – Ted Cruz Writes Their Blistering "Obituary"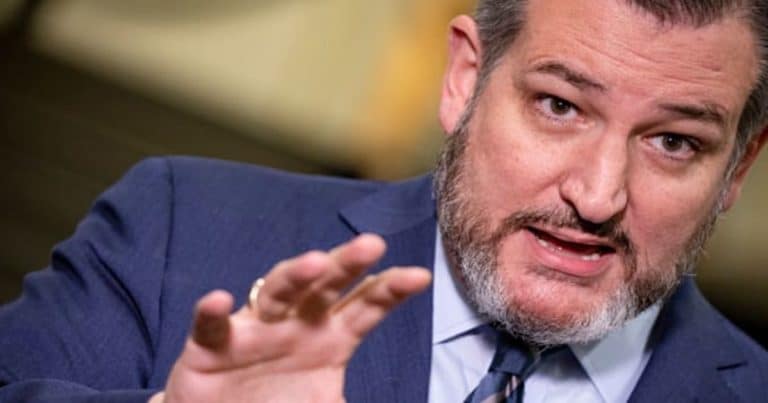 If you write something the left doesn't like, expect some retaliation.
That's the apparent rule in journalism today, as the now-former editorial page editor for the New York Times found out.
The editor allowed an anti-leftist op-ed written by Sen. Tom Cotton to run … and it turned out to be a very bad career decision.
The Times quickly issued a statement after the op-ed ran, saying they should never have published Cotton's piece.
Subsequently, they cited a "rushed editorial process" that didn't meet their standards. And the page editor promptly resigned.
But many Republicans believe the issue is entirely political.
This includes Texas GOP Senator Ted Cruz. After he found out what happened, he posted a scathing "obituary" on Twitter: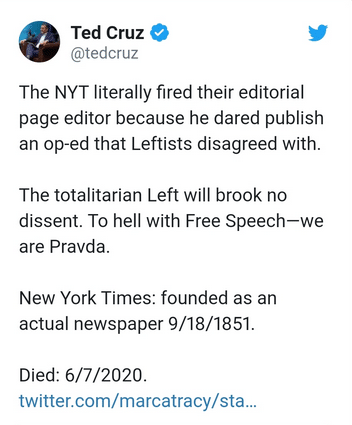 The NYT literally fired their editorial page editor because he dared publish an op-ed that Leftists disagreed with.

The totalitarian Left will brook no dissent. To hell with Free Speech—we are Pravda.

New York Times: founded as an actual newspaper 9/18/1851.

Died: 6/7/2020.
Unfortunately, that seems accurate to many.
After all, we're not talking about a news article. It's an op-ed; it's supposed to be a personal opinion, which we all have a right to voice.
And last I checked, we did still have the First Amendment — which is sort of critical for the press, by the way.
But evidently, this doesn't apply in all circumstances. And Cotton's response was equally blistering:
I can tell you my op-ed doesn't meet The New York Times' standards, it far exceeds their standards, which are normally full of left-wing sophomoric dribble.

And I find it amazing that in the last 24 hours, the editor of 'The New York Times' and the publisher of 'The New York Times' have both defended the decision to publish the op-ed, but in the face of the woke mob of woke kids that are in their news room, they tucked tail and they ran…

…they confessed and said they were gonna go into reeducation camp and they were gonna cut the number of op-eds they run, and for that I will say to the world, you're welcome for getting "The New York Times" to run less of the garbage that you normally see in their pages.
These days, the media is definitely under a lot of pressure. And sometimes, that pressure is warranted.
However, when one side feels they can't speak out, we've got a big problem…
How many times have Republicans and Conservatives complained of media suppression? How many times have we heard about it on social media?
As a result, there's going to be blowback when we feel our rights disappearing.
Don't you think Cotton had a right to speak his mind? Heck, we certainly do.
SHARE if  you support Cruz's "obituary"!
Source: The Daily Wire