After RFK "Ripped Vid" Goes Viral – A Stunning New Poll Sends Biden Reeling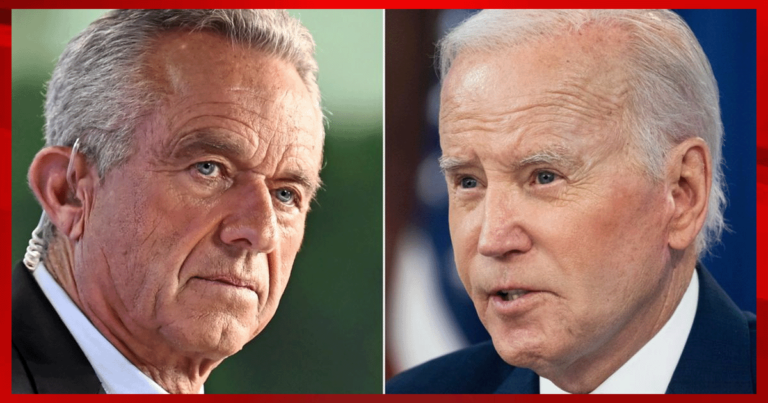 What's Happening:
The liberal establishment seems pretty dead set on running Joe Biden in 2024. The man is falling apart at the seams. He can't finish sentences. And everything he touches seems to crumble. His White House appears to be in disarray. The very people chosen to lead agencies are unqualified. And the nation has been hit by one crisis after another.
Meanwhile, a Democrat rival has appeared. Robert F. Kennedy Jr. does not seem willing to back down in his fight for the liberal nomination. And he threw some serious shade at Joe Biden in a video that has quickly gone viral.
Getting in shape for my debates with President Biden! pic.twitter.com/ns8MdJVlmx

— Robert F. Kennedy Jr (@RobertKennedyJr) June 25, 2023
Ouch! RFK posted a video showing just how physically fit he is, in comparison to 80-year-old, senile, Joe Biden. He is demanding to debate Joe Biden, even though the Democrat establishment is pretending like Kennedy isn't there.
But Americans are noticing. And they are in no way pleased with Biden. This latest report might signal Biden's end before the primaries really begin.
From Daily Wire:
More than two-thirds of registered voters — 68% — said they have moderate to major concerns about Biden "not having the necessary mental and physical health" to be president, according to the latest national survey conducted for NBC News. That marks a 17-point increase from when voters were asked the question in October 2020.
Wow. Soon after Kennedy shows off his physical fitness, Biden is hit with a devastating poll about his own. A whopping 68% of voters say they have "moderate to major concerns" about Joe Biden's ability to lead.
Specifically, they expressed concerns over his mental and physical health. It doesn't just appear that Biden's brain is melting. He often struggles to walk a straight line. Staff worry about him shuffling around the White House because he might trip over a wire.
From all appearances, Biden seems a better fit for a nursing home than the Oval Office. Yet the Democrat establishment would rather have him at the helm of the party–and the country–than someone in much better shape.
At this point, it's really a farce. Nobody in their right mind thinks Joe Biden is fit for office. Only liberals in the media and the DNC dance around, pretending like Joe isn't insane. What's really hilarious is that RFK is giving them an out.
All they have to do is back him and they can gracefully put Joe to the curb. But they won't even do that.
They shouldn't be surprised when Biden loses.
Key Takeaways:
RFK posted a viral video showing off his physical fitness, calling out Biden's frailty.
A new poll shows 68% of voters are concerned Biden is not fit for office.
The Democratic Party refuses to let Joe Biden debate with Kennedy.
Source: Twitter, Daily Wire