Days After RINOs Protect 'Pencil Neck' – Congress Blindsides Schiff with the Perfect Move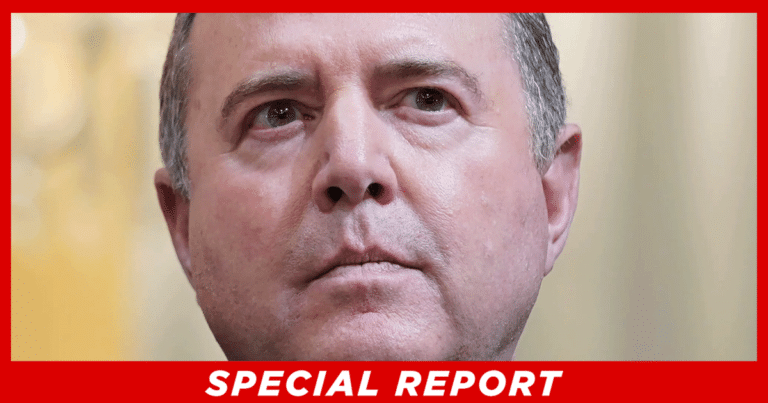 What's Happening:
This week, we learned that Republicans were taking steps to hold Rep. Adam Schiff accountable for false claims he made about Donald Trump. They put forward a resolution to censure the Democrat and perhaps fine him $16 million. But their plans were foiled when 20 House Republicans betrayed the party to bail Schiff out.
It came as a shock to think some Republicans would go out of their way to save this man. After all, Schiff wouldn't have done that for them. Schiff has been outed several times for making untrue statements against Donald Trump–to the point where some think he committed perjury. But despite this betrayal, Schiff still might face the music yet.
From Fox News:
Rep. Anna Paulina Luna, R-Fla., said Thursday that Republicans will try again to censure Rep. Adam Schiff, D-Calif., for making "false accusations" against former President Donald Trump, after the House voted down a censure resolution against Schiff on Wednesday…

But Luna said Thursday that she reached an agreement with those 20 Republicans on new censure language and said the House is expected to vote on it soon.
According to Rep. Luna–who put forward the original resolution–the 20 Republicans to refused to hold Schiff accountable are ready to come to terms. She said she had spoken with them and they are willing to vote on another censure against Adam Schiff.
Luna accused Schiff of lying to the American people, to his colleagues, and also "violated the rights" of Trump allies like Carter Page.
It appears the 20 holdouts are now willing to vote on the resolution, as the language was changed to their liking. We're not sure what was changed, but the recommended fine was removed. I'm sure millions of Americans won't appreciate that. Seeing this man get hit where it really hurts would have been a kind of justice for the damage he's caused.
But a censure from Congress is a stinging rebuke. It will mar his reputation and could bring other consequences in the future. Schiff is eyeing a Senate run in 2024. He might not have as easy of a road as he expected, with a censure in his history.
Key Takeaways:
Adam Schiff might be censured after all, as a new resolution is being put forward.
A censure move failed this week after 20 Republicans voted against it.
Luna revealed she has convinced them to vote on a new resolution, with new language.
Source: Fox News