President Trump Just Replaced Attorney General Barr – Now Donald Will Fill The Critical Position With Deputy AG Jeffrey Rosen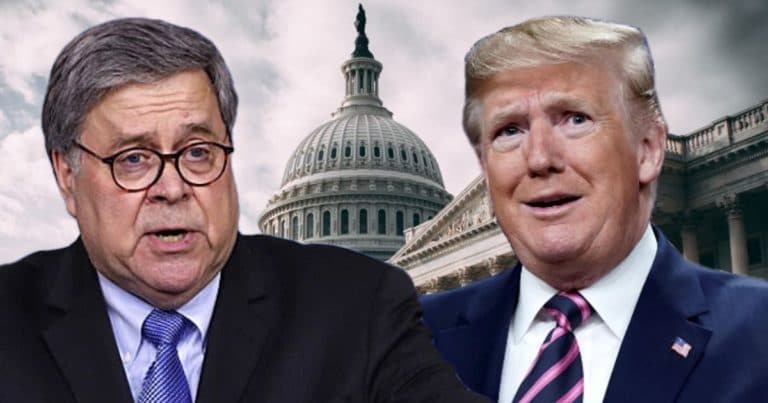 What's Happening:
It's no secret that President Trump and his attorney general, Bill Barr, has not seen eye-to-eye lately.
Americans were shocked to learn that Barr refused to back the president over his fight for election integrity. Barr also revealed he know about Hunter Biden's tax investigation (and other cases) but kept it from Republicans before the election.
So, should we be surprised to learn that Barr just submitted his resignation? If Trump continues for a second term, Barr won't be heading the DOJ.
And Trump just announced his replacement. From Fox News:
Jeffrey Rosen will be taking over as acting attorney general following Attorney General William Barr's resignation.

Rosen previously served as deputy attorney general, a position to which he was confirmed in May 2019 following the departure of Rod Rosenstein.
Rosen served as deputy attorney general since 2019, after Rod Rosenstein left the agency. He was confirmed by the Senate and has served under Barr since then.
While his stance on a few ongoing cases remains unknown, it's worth noting what Rosen has previously said about election interference in the past.
In August, he warned that foreign actors might possibly try to interfere with the 2020 election. He also said these foreign entities might try to sow doubt among Americans over our democratic process.
It's unclear whether Rosen will hold up Trump's stance over the election. President Trump himself called Rosen an "outstanding person." That could suggest Rosen will work with the president in his ongoing efforts to root our election issues.
It's also worth noting that Trump had nothing but good things to say about outgoing Barr. He said their relationship has been "a very good one" and that the man had done an "outstanding job."
Trump is not one to shower praise on people unnecessarily. When his previous AG left, Jeff Sessions, Trump was outspoken in his disappointment over his leadership.
He even went on to oppose Sessions attempt to get re-elected to the Senate.
Do you think Barr should have resigned?
Key Takeaways:
Attorney General Bill Barr stepped down from his position at the DOJ.
President Trump announced Jeff Rosen will be taking over the position.
Rosen has previously discussed possible election interference by foreign actors.
Source: Fox News