Attorney General Barr Turns On Trump On His Way Out – He Makes No Plans To Appoint 2020 Election Special Counsel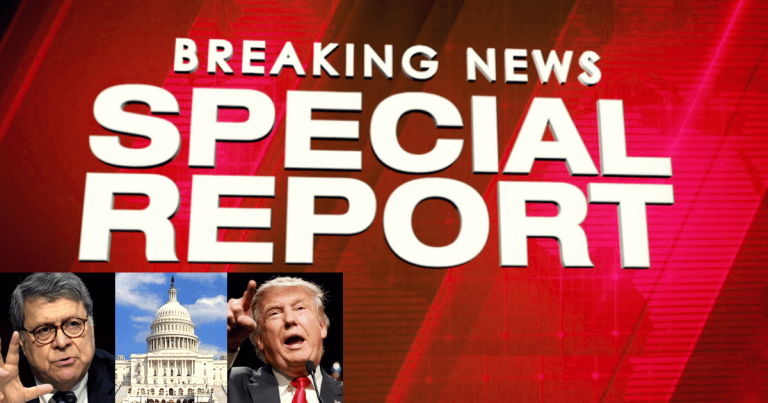 What's Happening:
After serving the president faithfully over the years, Attorney General Barr abruptly put in his resignation. This came after he appeared to defy the president in recent days.
On the surface, Barr seems to just want to spend more time with his family over the holidays. Reasonable, right? But some believe a rift has occurred between him and President Trump.
That might end up being the truth, as his decision over some important issues appears to be upsetting some conservatives.
Many have called for special counsels over major scandals involving Hunter Biden and the election. But Barr seems to have no intention of doing so. From Fox News:
Attorney General William Barr on Monday said he has "no plan" to appoint a special counsel to take over the federal investigation into Hunter Biden's "tax affairs," or one to probe allegations of widespread voter fraud in the 2020 presidential election…

"I think to the extent that there's an investigation, I think that it's being handled responsibly and professionally," Barr said Monday about the investigation into Hunter Biden. "To this point I have not seen a reason to appoint a special counsel and I have no plan to do so before I leave."
Several prominent Republican leaders, including lawmakers in Congress, have called on Barr to appoint special counsels over important investigations.
They worry that if Biden enters office, he will quickly dismiss investigations into his son and the election. After all, both seem to be major conflicts of interest for the Democrat.
President Trump and other Republicans have expressed interest in special counsels to oversee investigations into Hunter Biden's tax allegations and the irregularities and possible abuse in the 2020 election.
But Barr refuses to do so, claiming there is no reason for it.
Seems strange. Why does this man appear unwilling to follow through on these issues? It's not as if he will suffer any damage if these cases turn out to be nothing.
But if there is something to Hunter's alleged wrongdoing—and the worries over the 2020 election—Barr would have done well to protect these cases from interference.
That doesn't mean no special counsels will be appointed. Trump's acting AG replacement just might do what Barr refuses.
Key Takeaways:
AG Barr will not appoint special counsels into Hunter's tax case and the 2020 election.
Barr claims there is no need to continue these cases if the DOJ closes them.
Barr's replacement might decide to appoint special counsels anyway.
Source: Fox News