After Rioters Threaten To Tear Down Alamo, George P. Bush Give Texas-Sized Response: "Don't Mess WIth The Alamo"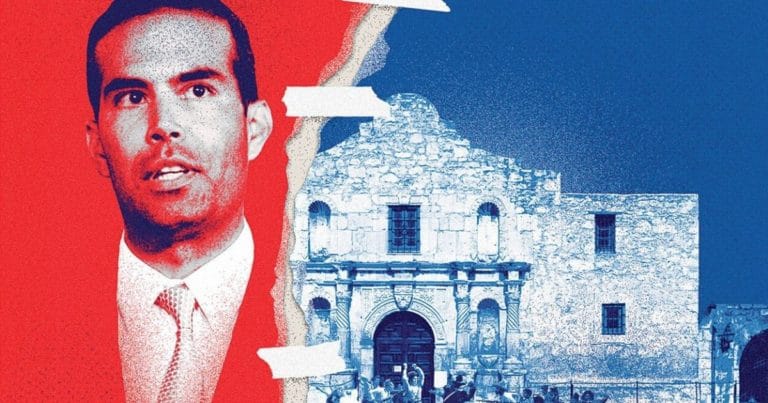 In the wake of protests over the death of George Floyd, activists have renewed calls to tear down monuments across America. These activists accuse these statues as being symbols of racism or slavery.
A number of statues, ranging from Confederate leaders to Thomas Jefferson and Christopher Columbus, have already been vandalized or destroyed.
Murmurs have arisen that the historical landmark the Alamo in San Antonio, TX will be targeted next. Posts on social media seemed to suggest that radical activists would try to destroy the landmark.
The Alamo is now a park with multiple historical features that tell the story of the sacrifice of Texas leaders. The slaughter at the Alamo united Texans and helped bring out its liberation.
Texas natives have scoffed at calls that this important landmark is "racist."
Now, Texas Land Commissioner George P. Bush has vowed to protect it:
Don't mess with the Alamo. pic.twitter.com/oqDM8wUOrT

— George P. Bush (@georgepbush) June 13, 2020
Why is this Texas response so important?
During the early days of the George Floyd protests, thousands gathered in downtown San Antonio. Fears rose that rioters would destroy the Alamo—which is located in the heart of the city.
But a group of volunteers—armed with AR-15's—formed a line to guard the historic site. The SAPD also ensured that little damage was done to the city.
The land commissioner just made it clear that the Alamo is "the Shrine of Texas Liberty." Few landmarks are as important to Texas as this one.
Bush assured residents that "for several weeks" police, the Alamo Guard, and the National Guard are protecting it.
While the movement to remove statues started with Confederate leaders, many say it has gone out of control. Some people say it's acceptable to remove monuments honoring men who fought to keep slavery—but even Trump himself asked, "Where does it end?"
Calls for the removal of Columbus, Washington, and Jefferson memorials have troubled countless Americans.
Even figures of noted abolitionists (who fought to end slavery) have been vandalized, as have statues of figures like Winston Churchill (renowned British PM who battled the Nazis).
Critics of this movement have decried it as an attempt to erase our history and national identity. When radical activists call for the destruction of a site as beloved as the Alamo, the critics just might be right.
Key Takeaways:
As Confederate statues are being taken down, rumors arise that the Alamo is next.
The Land Commissioner of Texas has deployed numerous resources to protect the landmark.
His message: Don't mess with The Alamo.
This comes as critics denounce a movement aimed at erasing our national identity.
Source: Twitter