American Hero Lands On U.S. Soil For The First Time In 50 Years – An Entire Airport Watches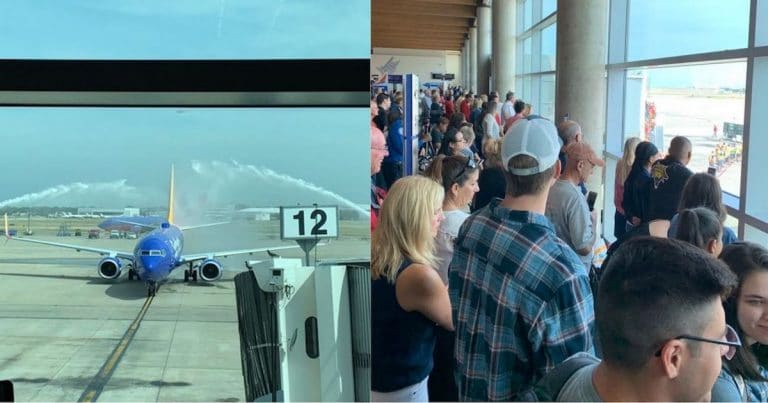 Patriotism is alive and well in the United States.
Oh, you might not see many examples of it in the mainstream media. It's just not a big ticket item for them.
They want to focus on the nasty side of life and recently, they seem to shy away from anything positive and nationalistic.
But at their core, American citizens love and respect our military veterans.
And those who make the ultimate sacrifice deserve every ounce of that love and respect … which was on full display at the Dallas airport this week.
Unbelievably enough, a single incoming plane made the entire terminal stand and watch…
And for good reason.
From The Daily Caller:
On Thursday, everyone at a terminal at the Dallas airport witnessed something extraordinary: the remains of an American pilot who was shot down in 1967 were finally brought home.

And the pilot of the plane carrying the remains was his son, who was only five years old when his father was shot down.
What an incredible scene!
Hundreds and hundreds of people, standing vigil while this fallen hero returns home for the first time in over 50 years!
Now that's patriotism and respect.
It's even more poignant that the pilot of this plane was the hero's father! It must've been an emotional flight for him, that's for sure.
Jackson Proskow, the Washington Bureau Chief for Canada's Global News and Globe National, captured it all on Twitter.
These pictures remind us of everything our military has done for us in the past, and continues to do for us.
They remind us that there are fighters out there, willing to give their lives for the good of this country.
And if they fall, we should ALL stand and pledge our silent respect.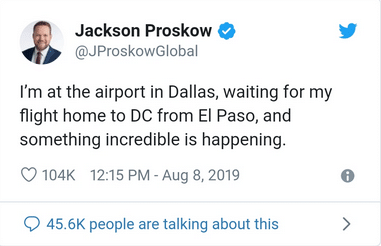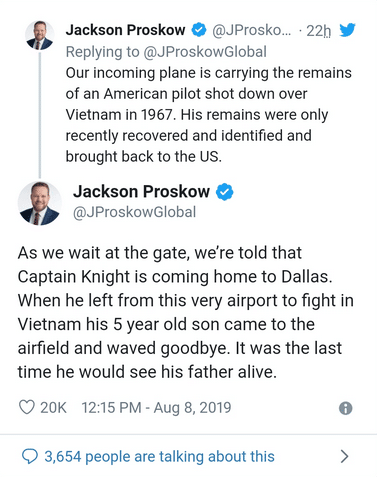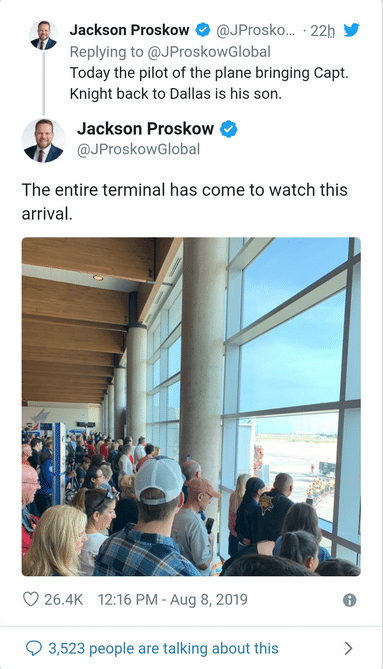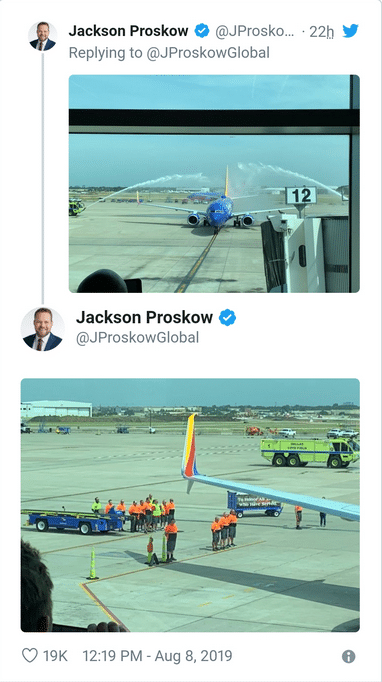 The American pilot in question was shot down over Vietnam in 1967, and his remains have finally been recovered and identified.
Proskow did some extra research on this and found that:
On May 19, 1967, Maj. Roy A. Knight, Jr., USAF, was shot down while attacking a target on the Ho Chi Minh Trail in Laos.

He was initially listed as Missing in Action until being declared Killed in Action in 1974.
And his son, the pilot Capt. Knight, just brought him home.
When the airport heard what was happening – it was announced over the intercom – they all gathered at the windows and watched.
Quietly, respectfully … patriotically.
Maybe we can all learn something from this. Maybe we should all focus on that which matters most.
And above all else, we should continue to honor those who have DONE the most, and sacrificed the most.
Do you love and honor our nation's military heroes? SHARE with your proud friends and family if you do!
Source: The Daily Wire