Now That Amy Barrett Is A Supreme Court Justice, 4 Upcoming Cases Could Make Her The Deciding Vote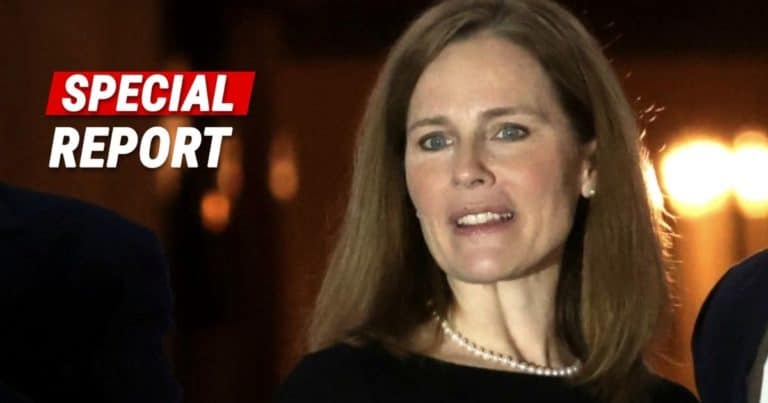 What's Happening:
Democrats are reeling now that Donald Trump's pick—Amy Coney Barrett—is officially a Supreme Court justice.
Many Americans are pleased Trump selected a respected and accomplished judge, wife, and mother.
Liberals appear to only care about the advancement of women—when the women are from the left.
Just as she entered the court, four major cases are coming up.
These are significant cases and her vote might decide every last one of them:
Nov. 4: Fulton v. City of Philadelphia:

The case is unique in that it is a case not about whether private citizens can refuse service to LGBTQ people, but whether the government can order its contractors to provide services equally to everyone.
This case involves a religious nonprofit who refused a gay couple as foster parents. The city stopped referring foster children to the agency, citing discrimination.
The case will touch on whether or not the government can force a private organization to provide services that violate their religious beliefs.
Nov. 10: California v. Texas:

Perhaps the most high-profile case to hit the Supreme Court next month, California v. Texas concerns the Affordable Care Act (ACA). The ACA established requirements for individuals to have health coverage and implemented fines for those without.
Texas sued to get rid of Obamacare, over the individual mandate. Ever since Trump got rid of Obamacare's worst rule, Texas Republicans are arguing that the entire program is no longer Constitutional.
Democrats fear, based on Barrett's past rulings, that she'll vote to entirely eliminate Obama's signature—and worst—accomplishments. It was one of the biggest reasons Democrats panicked over Barrett's appointment.
Ballot Extension Case Requests:

The Supreme Court deadlocked this month, declining to block a Pennsylvania rule that allows mail-in ballots to be counted up to three days after Election Day whether or not they are postmarked.
Republicans in the state are now asking the Supreme Court to formally take up the case and put it on an expedited schedule to be decided before Election Day, according to CNN.
The Supreme Court has ruled that several states cannot extend mail-in ballot deadlines beyond Election Day. But, for some reason, Chief Justice Roberts sided with the liberal justices over this battle in Pennsylvania, leading to a deadlock decision.
Now, with Barrett on the bench, this case can be decided with a full, nine-justice SCOTUS.
Abortion:

The justices will consider Friday whether to hear a case that would challenge the precedent of Roe v. Wade.
Another major reason Democrats feared Barrett is this upcoming case. The court will decide if they will hear a case that challenges Roe v. Wade and a recent 15-week abortion ban law from Mississippi.
With a firm 6-3 conservative majority, Democrats fear how major issues will be decided for the next thirty years.
John Roberts has recently become a "swing" vote, inexplicitly siding with the liberal wing of the court on several important cases.
But with ACB on the bench, there will be at least 5 conservative, Constitution justices decided these cases.
Not even Roberts' unpredictable decisions will be able to stop that.
These are just the first few cases Barrett will hear. Expect even more groundbreaking results in the coming years.
Key Takeaways:
Trump's third SCOTUS pick, Amy Coney Barrett, is now on the court.
She will be deciding on several cases, involving Obamacare, ballots, and abortion.
Her vote might be the deciding factor in many crucial cases.
Source: Daily Caller