AOC Loses It in Latest Viral Video – She Actually Blames People Not Having Kids on the "Burdens of Capitalism"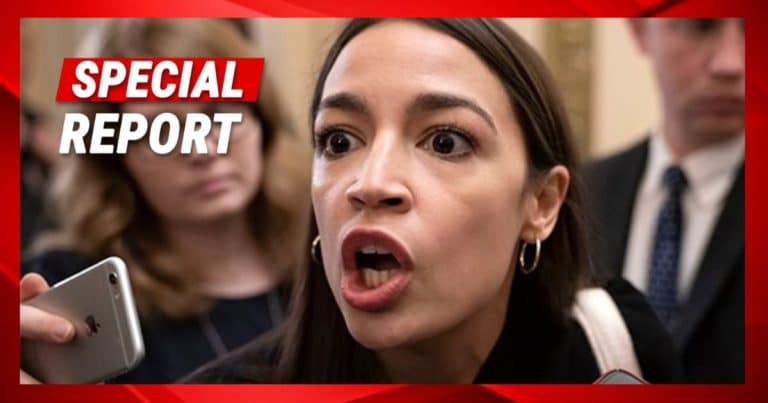 What's Happening:
Be thankful you don't have to listen to the shrill voice of AOC. We do that for you.
The fake socialist has strutted on the red carpet of the Met Gala. She has enjoyed the perks of being rich and famous, thanks to the media's love affair with this "woke" imbecile.
Despite being proven wrong again and again, AOC is back. And, while enjoying the benefits of capitalism, she claims it is doing this to young people.
From YouTube:
Um… what? Far-left Democrat Alexandria Ocasio-Cortez claims that capitalism is putting a burden on young people, so they can't have babies.
Really? Show of hands, how many of you know of people who had kids in the last two years?
I tried keeping track, but I long ago lost count. The lockdowns and other circumstances inspired countless people to have babies or start families.
How has capitalism prevented them from doing so? How has the free market, which has generated more wealth historically than any other system, been a burden to young people?
Capitalism has allowed untold Americans get good-paying jobs, afford homes, and raise children.
Thanks to capitalism, many people have the funds to actually afford to have kids.
How is that a "burden'?
Perhaps AOC doesn't want to have a kid, because she's afraid of the responsibility. The same can probably be said of many Zoomers–who'd rather waste their time streaming on Twitch.
I don't think AOC even knows what capitalism is, much less socialism. Socialism creates massive burdens on a society–limiting opportunity and crippling the flow of wealth.
In some socialist regimes, you're not even allowed to have children if the government says no.
There is so much poverty, people can't feed themselves, let alone children.
Perhaps AOC needs to find a new hobby. Because playing at being congresswoman isn't working.
Key Takeaways:
Democrat AOC claims capitalism is preventing people from having children.
The free market, historically, has lifted millions out of poverty.
Socialist countries often see a drop in birthrates, as poverty spreads.
Source: YouTube