Queen AOC Says She Has Coronavirus Solution – She Wants To Quickly Enact Socialist Universal Income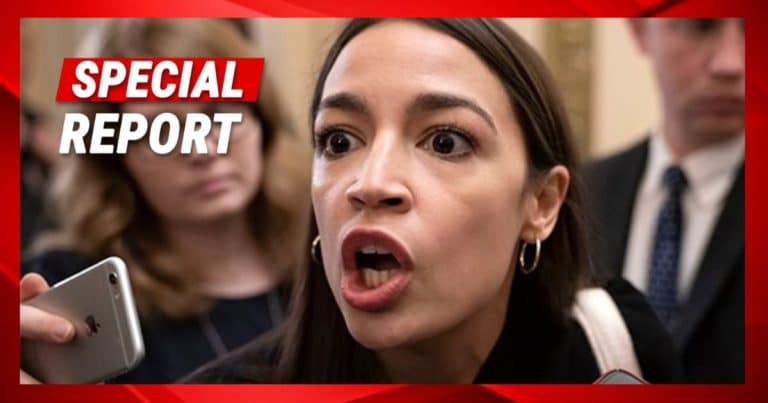 The Democrats see the coronavirus situation with dollar signs in their eyes.
As many Americans worry about the spread of the disease, Democrats want to spend, spend, spend.
But even that's not good enough for some leftists. Socialist Alexandria Ocasio-Cortez thinks this is as good a time as any to push her most radical agenda.
She is calling on our president to enact universal basic income.
No, I'm not making this up.
From Twitter: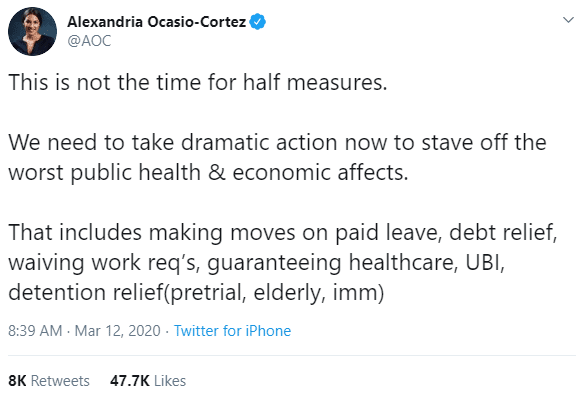 This is not the time for half measures.

We need to take dramatic action now to stave off the worst public health & economic affects.

That includes making moves on paid leave, debt relief, waiving work req's, guaranteeing healthcare, UBI, detention relief(pretrial, elderly, imm)
In her usual, hyperbolic way, AOC said that in order to stave off the "worst" effects of the virus, the government has to spend trillions on socialist programs.
Not only does she want universal healthcare, debt relief, and an end to prisons ("detention relief"), she wants the government to start cutting paychecks to everyone.
Yeah UBI, or universal basic income, is the idea that our government will just pay everyone money.
I get it, the coronavirus has some people very concerned. Nobody wants to get sick. And we want quick solutions to make the fear go away.
But diseases come and go all the time. The coronavirus is a good opportunity for our medical industry to grow and reform.
Though, the last thing we need is the government to massively increase taxes to pay for AOC's ideas.
This woman is all talk. She throws out these tweets like she's some kind of scholar. But she never bothers to think through what she is saying.
Pretty bad approach, for a LAWMAKER.
UBI would be a bad idea, even when the economy is roaring. But a time like this—when investors are freaking out? It would be a disaster.
But I have an idea! Let's start giving out checks to everybody. So long as AOC pays for it out of her own pocket!
I'm sure she'll sign right on the dotted line…
SHARE to tell AOC to keep her bad ideas to herself!
Source: Twitter