Queen AOC Is Playing With Fire – She Joins Dozens Of Democrats, Orders Senate To Override Their Own Parliamentarian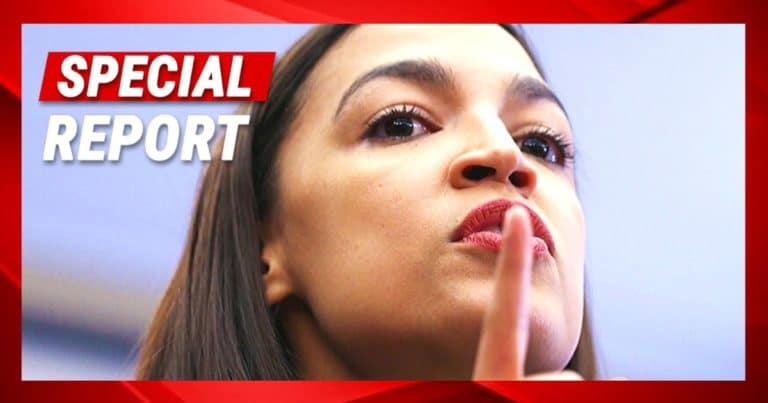 What's Happening:
There is only one reason Democrats might get Biden's massive spending plan passed. They are exploiting (again) the budget reconciliation loophole, that lets them pass a budget bill with only 51 votes.
But that means they have to stick to only budget issues—they can't just cram whatever they want into this bill.
Even the Senate parliamentarian shut down numerous attempts by Democrats to sneak other things into this bill. One major agenda item was cut out, thanks to the parliamentarian's guidelines.
But House progressives, including Alexandria Ocasio-Cortez, are outraged that the parliamentarian is sticking to the Constitution. So, they are ordering Senate Democrats to ignore her. From Roll Call:
Dozens of progressive House Democrats are ramping up calls for immigration relief to be included in a sprawling budget reconciliation package — regardless of what a Senate arbiter says about it.

Reps. Lou Correa, D-Calif., Adriano Espaillat, D-N.Y., Jesús "Chuy" García, D-Ill., Alexandria Ocasio-Cortez, D-N.Y., and 39 others called on Senate leaders to disregard Parliamentarian Elizabeth MacDonough's findings that broad immigration relief does not belong in a reconciliation package.
A number of radical progressives from the House want Senate Democrats to ignore the rules set by their own parliamentarian and cram their immigration agenda into the spending bill. The parliamentarian clearly stated that immigration changes are not a budget issue. They can't put that into this bill.
But clearly, House Democrats like AOC don't seem to care much about the rule of law. Why else would they seek to override our Constitution's own guidelines and practices? These socialists, like AOC, don't even seem to understand that these rules exist for a reason.
If Senate Democrats try to override the parliamentarian, they might hit more roadblocks than they realize. Moderate Democrats, who are already on the fence over this bill, could vote it down entirely. Senate Republicans, outraged over this breach of rules, could give Democrats all kinds of headaches.
It doesn't seem House Democrats seem to care. They are so hell-bent on passing their socialist takeover of our country, that they are willing to reject any form of authority to get their way. No matter what happens, this won't bode well for these far-left Democrats.
Key Takeaways:
House Democrats are demanding Senate Democrats to override the parliamentarian.
The parliamentarian ruled immigration changes cannot be put into the reconciliation bill.
Democrats are determined to erode our immigration laws to further destroy the border.
Source: Roll Call