After Liberal AOC Gets An F In Congress – 3 Democrat Leaders Just Blindsided Her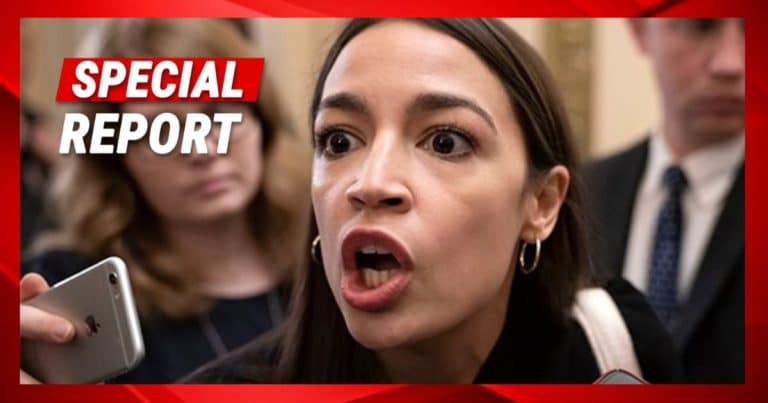 What's Happening:
AOC is having a hard week. Not that she doesn't deserve it.
The woman who once "wept" at the border was silent over Biden's border disaster.
She then blamed everything under the Sun for the crisis, except Biden's policies.
And now, a new report just slapped her in the face.
From JPost:
A study has found that Rep. Alexandria Ocasio-Cortez, a Democratic member of Congress from New York City and a young face in the party, has not been an effective politician in the legislature, based on a survey from the nonpartisan Center for Effective Lawmaking.

Ocasio- Cortez, popularly known as AOC , introduced a total of 21 "substantive" bills that did not receive substantial backing from other lawmakers, including committee and floor votes, according to the study.
Ouch, that's a terrible track record. But whether it's because she's a radical socialist or just a bad leader, three Democrats think they should give back her money.
From the Washington Examiner:
At least three House Democrats have reportedly declined or vowed to return campaign donations from Rep. Alexandria Ocasio-Cortez ahead of the 2022 midterm elections, fearing the funds could hurt their chances with swing voters.
Yikes. I guess when it rains, it pours.
Three Democrats from the House returned or rejected $5,000 donations from AOC, fearing it would hurt their 2022 chances.
Democrats turning down money!? Now, you know it's serious!
Running a re-election campaign is not easy. It takes a lot of money. What does it say about AOC that these Democrats would rather be without 5 grand, so they aren't associated with her?
The Democrats come from three states: Pennsylvania, Georgia, and Michigan. Those are three states that will have very intense 2022 battles.
Republicans will be pulling out all the stops to flip the House. And they are definitely eyeing these Democrats' seats.
These so-called moderate Democrats watched many of their colleagues lose their races in 2020. They all know why: radicals like AOC are turning off swing voters.
Moderate Democrats are dying as their "leaders" like Pelosi and Schumer destroy the party to please the far-left.
Something tells me these Democrats will need to do more than return AOC's money, if they want to survive.
Key Takeaways:
AOC has been rated one of the least effective lawmakers in the House.
Three Democrats have returned or rejected donations from AOC.
They fear losing their 2022 races, for being associated with the socialist.
Source: JPost, Washington Examiner