AOC's Squad Just Crossed The Iran Line – They Dared To Accuse President Trump Of 'War Crimes'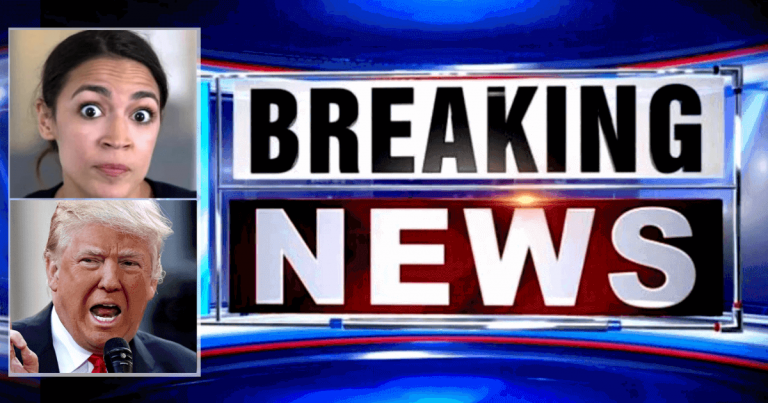 President Trump took a stand by taking out Iran's worst general. In response, the rogue nation promised to hit thirty-five American targets.
Let's be clear: Iran is our enemy. They have promised they stop until we and our allies are wiped out.
A good president stands up to enemies like this—and makes it clear we will not tolerate it. That's just what Trump did.
He responded with a show of strength weak-willed liberals aren't used to. He promised to retaliate against any Iranian attacks by hitting fifty-two of their own targets.
Some of them happened to be Iranian cultural sites, places of significance.
Guess which threats AOC and her "squad" was offended by? I'll give you a hint, it wasn't Iran's!
From The Federalist Papers:
"This is a war crime," Ocasio-Cortez said. "Threatening to target and kill innocent families, women and children — which is what you're doing by targeting cultural sites – does not make you a 'tough guy,' It does not make you 'strategic.' It makes you a monster."

Not to be out done, Rep. Omar, who has not stopped tweeting since the general was killed, added her own two cents.

"The President of the United States is threatening to commit war crimes on Twitter," she said. "God help us all!"
Talk about pathetic. Iran vows to hit our country and our allies. They haven't stopped promising to wipe us off the map.
But AOC and her idiot allies are upset with Trump's response.
Immediately, the deranged and utterly unqualified AOC said Trump was threatening to wipe out innocent families, women, and children.
Not once did Trump threaten families. Not once did he threaten children. In fact, all of the strikes that have occurred during the Trump administration have been against military groups.
The person that did hurt civilians with countless drone strikes? That would be Barack Obama.
President Trump has no intention of hurting innocent Iranians. In fact, he's spoken openly about his support for the Iranian people—who are the first victims of their corrupt regime.
But those facts never get in the way of the squad's wild, inaccurate, and dishonest attacks.
Why didn't these women get upset when Iran said they were going to hit thirty-five of our sites? (Which would have most-certainly included women and children.)
Why aren't they tweeting out support for Americans we lost because of Iran? Why aren't they even a little bit showing support for our leaders?
Instead, they are quick to jump to Iran's defense.  Are they so full of Trump Derangement Syndrome that they would endorse an enemy?
Or are their masks slipping? Were they supporters of Iran all along?
That's an important question for Ocasio-Cortez, Omar, and all the others. Perhaps they should answer it before November?
SHARE if you support Trump, not AOC and her squad!
Source: The Federalist Papers