Queen AOC Just Went Too Far With Ted Cruz – Republicans Demand Apology After She Fires Accusations At Ted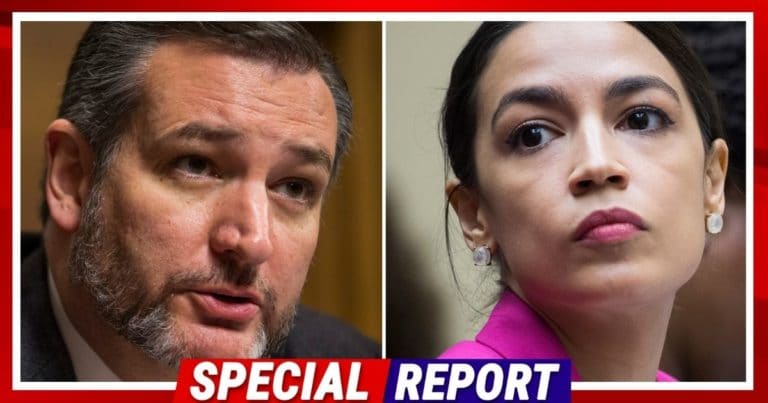 What's Happening:
You can always count on AOC to go over the line. In the past, she has spared with minds far greater than hers.
That includes constitutional scholar Ted Cruz, who knows a thing or two about our government. For a brief moment, they agreed about term limits in Congress.
But, as you can expect, AOC has recently ramped up the rhetoric against the Texas senator. Even as Cruz agreed with AOC on another issue, she went as far as to accuse Ted of "attempted murder."
Dang. Now, she's getting some serious heat.
From Daily Wire:
Rep. Chip Roy (R-TX) demanded an apology from Rep. Alexandria Ocasio-Cortez (D-NY) on Thursday after she accused Sen. Ted Cruz (R-TX) of "trying to get me killed."

"As a member of this body who disagreed with 'objections' to the electors and who has expressed publicly my concerns about the events leading to January 6th, it is completely unacceptable behavior for a Member of Congress to make this kind of scurrilous charge against another member in the House or Senate for simply engaging in speech and debate regarding electors as they interpreted the Constitution. I ask you to call on her to immediately apologize and retract her comments."
In the wake of the GameStop stock dust-up, AOC demanded an investigation into how stock-trading app Robinhood was blocking investors from buying stocks.
Cruz simply responded with, "I agree."
Ocasio-Cortez refused to acknowledge Cruz's attempts to offer an olive branch, accusing him of trying to "get her killed."
She is referring to Cruz's challenge to the electoral college results, which Democrats claim "incited" the January 6 riot. AOC was outspoken in her melodramatic account of the day, where she claimed (without evidence) that her life was in jeopardy.
Such wild accusations sparked the retaliation of Chip Roy, who called on Nancy Pelosi to rebuke her fellow Democrat. Roy wants AOC to apologize to Cruz or he will find "alternative means."
For a long time, AOC has run her mouth, saying what can only be described as nonsense. Rarely have members of her own party called her out on it. AOC makes wild claims and accusations but never backs them with facts.
This time, though, she's crossed a line. Saying Cruz tried to get her "killed" can, in turn, put Cruz and his family in jeopardy. Unhinged followers of AOC might try to "defend" her in the worst way.
Which might be the very reason she said it in the first place.
Key Takeaways:
Democrat AOC accused Sen. Ted Cruz of "trying to get her killed."
Chip Roy fired back, calling on Nancy Pelosi to rebuke the congresswoman.
AOC has a long history of making wild claims with zero evidence.
Source: Daily Wire