AOC Tries To Corner Senator Ted Cruz – But He Turns The Tables, Then Asks The Tough Questions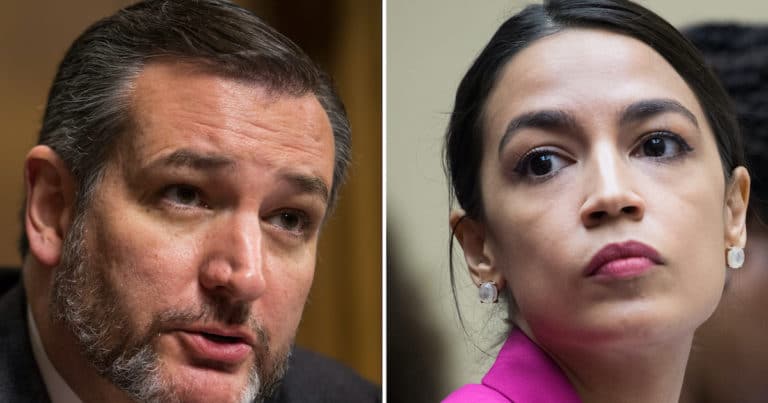 What's Happening:
Senator Ted Cruz (R-TX) hasn't been shy in recent weeks.
As controversy surrounds certain statues, monuments and memorials around the country, we see even more political polarization.
Democrats and leftist citizens are going after historical figures ranging from the faces on Mt. Rushmore to Teddy Roosevelt and even Abraham Lincoln.
But Cruz isn't afraid to condemn these ideas these ideas coming from the left.
He's also not afraid to make his feelings plain on social media, as Cruz said in this tweet Sunday morning: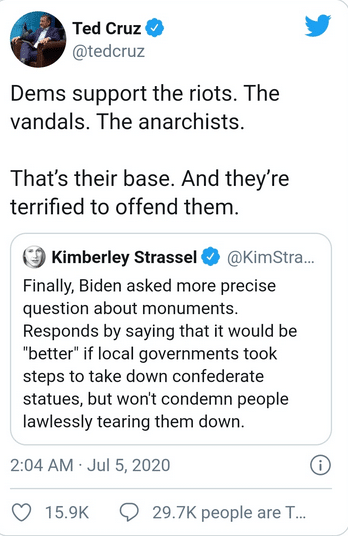 Dems support the riots. The vandals. The anarchists. That's their base. And they're terrified to offend them.
Freshman Rep. Alexandria Ocasio-Cortez (D-NY) took issue with Cruz's comments. Specifically, the theory that the Democrat base has moved farther left.
She cited presumptive Democratic nominee Joe Biden, who many see as being more moderate than extreme.
But then AOC took another step, tweeting:
Is it me, or is the GOP losing their touch with the conspiracy-theory-as-campaign-rhetoric technique?
That's the response that lit a fire under Cruz, because he quickly followed up a with a series of questions.
Cruz obviously wants Ocasio-Cortez to condemn that which should be condemned in his mind. And again, he wasn't afraid to put it in the public eye: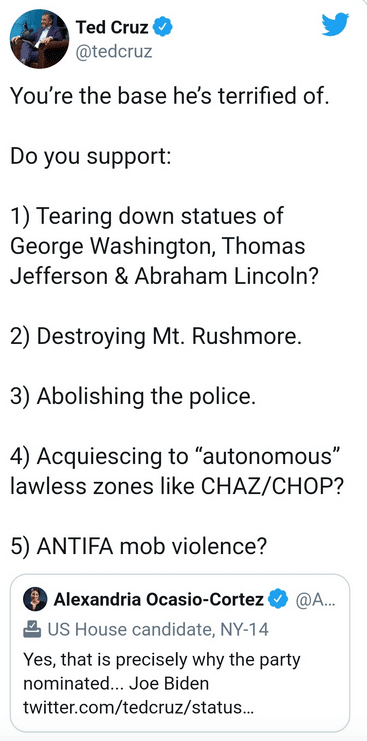 You're the base he's terrified of. Do you support: 1) Tearing down statues of George Washington, Thomas Jefferson & Abraham Lincoln? 2) Destroying Mt. Rushmore.

3) Abolishing the police. 4) Acquiescing to 'autonomous' lawless zones like CHAZ/CHOP? 5) ANTIFA mob violence?
Cruz posted these questions on Sunday afternoon. But thus far, there has been no response from AOC.
She may have to respond to similar questions before long, however, as these are hot-button issues that won't be resolved any time soon.
In fact, if Ocasio-Cortez wants to keep her seat, she'll likely have to be clear about her thoughts on all those topics.
Does she support tearing down certain statues? Is she in support of lawless "CHOP" zones? What about the controversial Antifa?
And it's not only AOC who will have to address these topics — every politician will have to make clear statements during election time.
That does, of course, include President Donald Trump…
Key Takeaways:
Ted Cruz blasted Democrats for supporting the riots, as well as "vandals" and "anarchists."
AOC fires back, claiming the "base" of the Democrat party isn't so far left.
Cruz followed up with five questions, which AOC has yet to answer. Though she may have to respond in the coming months.
Source: The Daily Wire