Queen AOC Triggered By Tom Cotton – He Claims A Majority Of Americans Support Military Stopping Riots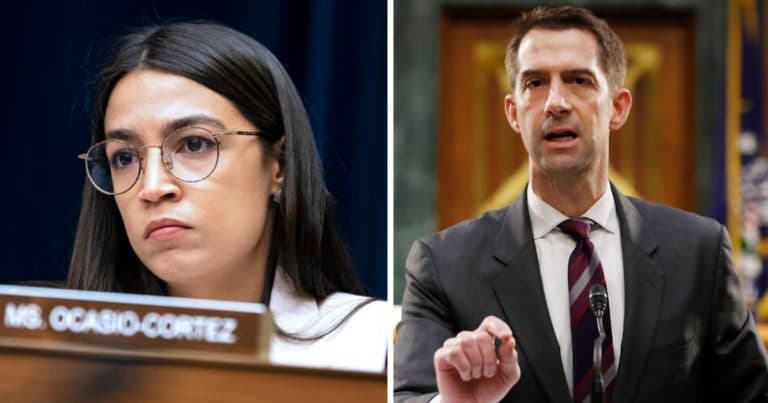 Boy, do leftists trigger easily. America is trying to recover from two crises, and all they left can do flip out.
Tom Cotton wrote an opinion piece, echoing sentiments many Americans share about ending the riots.
But Little Miss Socialist AOC was so triggered by this article, she tried to go after the paper.
From Daily Wire:
Cotton… describes how the violent riots are harming the most vulnerable communities and suggests that the solution to fixing the problem would be to invoke the Insurrection Act…

Ocasio-Cortez, along with leftist reporters at The New York Times, called James Bennet, Editorial Page Editor at The New York Times and brother to Democrat Sen. Michael Bennet (CO), for publishing the op-ed and made numerous false suggestions in doing so.
Sen. Cotton discussed the possibility of using the Insurrection Act to end the nightly riots in our cities.
His comments simply concur with what many Americans are thinking: that we need to act fast to end this damaging trend.
AOC was clearly upset, attacking the paper and its editors. She seemed to make numerous false allegations while trying to discredit Cotton's article.
It seems AOC ignored the fact that the majority of Americans (including half of Democrats) support using the military to stop the riots.
Our Take:
When has AOC ever gotten even basic facts right? She flipped her lid over this article, spewing a tirade of accusations on Twitter (her bully pulpit of choice).
But nothing she said even appeared to be close to reality. She got the date of the Tiananmen Square massacre wrong.
She said Cotton's suggestions put black Americans "at risk," which seems to suggest she thinks only black people are behind the riots (oops!).
AOC also said Cotton called for violence, which is not true.
We already got the violence, AOC, thanks to radical socialists you have much in common with.
Most people believe that the peaceful protests were exploited by Antifa and other radical groups to spread chaos and destruction.
Democrat leaders are unwilling or unable to stop these criminals from destroying largely black communities.
So, what else should we do but use our military to end this nonsense, once and for all?
It's pretty alarming that AOC is turning blind eye to the violence. Especially when her own city is being destroyed.
Like most Democrats, she is unwilling to separate peaceful demonstrations with acts of violence.
How can you not know the difference?
Maybe Democrats want the violence, as an excuse to manipulate black voters? Maybe they are fanning the flames of hate and division because they think it will help them in November?
That would be a pretty bad tactic if you ask me. Most Americans want this to end. Only fools would keep it going.
SHARE if you're ready to see AOC voted out.
Source: Daily Wire