A Massive 'Army Of Illegals' Is Marching On The Southern Border As We Speak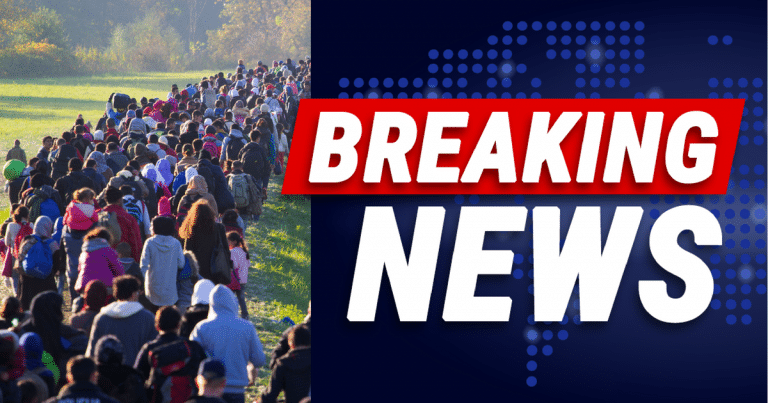 Throughout history, nations have fallen due to invasion. Rome was sacked by barbarian tribes. The Hun invasion destroyed the Han dynasty in China.
To suggest that something similar may happen to America is to risk being labeled a paranoid racist. Many on the left openly mock people who say that illegal immigrants are fundamentally changing America's culture and values, but are secretly welcoming it because they hate America's values.
Other people make it no secret that they want an invasion. One of the leaders of Calexit, the movement to help California secede, has openly admitted they would love for middle-class Americans to leave to make room for illegals.
"If everyone in the middle class is leaving, that's actually a good thing. We need these spots opened up for the new wave of immigrants to come up. It's what we do," Shankar Singam told Tucker Carlson during an interview.
Singam may get his wish. Middle-class Californians are moving away in droves while a new wave of immigrants is coming to our Southern border as we speak, thanks to the help of Buzzfeed reporter Adolfo Flores.
From Hot Air:
Flores is apparently on a lengthy trek through all of Mexico with a literal army of migrants from a number of countries including Honduras. Normally one might imagine that a potential national security crisis for the United States such as this would be cause for raising the alarm. Instead, the Buzzfeed reporter is cheering them on and talking about their "struggle."
…This isn't a group of family members or some isolated, organized clan. This is an army. Flores numbers them in the hundreds but looking at the pictures coming from the "march" it clearly appears that their numbers are swelling. The real figure, as cited by Mora, is likely already more than a thousand. Their purpose? They make no bones about it when asked. They, "hope American authorities will grant them asylum or, for some, be absent when they attempt to cross the border illegally."
In their reporting, Buzzfeed is describing how the organizers are using the crowd's massive size to deter authorities from deporting them. Flores even tweeted that immigration authorities are helping them on their quest to get to America.
The municipality we're at now is offering buses to get us to the next town. It's been happening at several stops, I imagine they're more interested in getting people out of their public squares. pic.twitter.com/6ay7Rn8fzI

— Adolfo Flores (@aflores) March 30, 2018
The President is apparently aware of this situation and made several tweets today showing his unwavering commitment to border security. Trump clearly his nothing but disdain for people who want to invade our country illegally rather than immigrate into it legally.
These big flows of people are all trying to take advantage of DACA. They want in on the act!

— Donald J. Trump (@realDonaldTrump) April 1, 2018
The horde approaching the U.S. will not only overwhelm us with DACA recipients, they will also overwhelm our welfare system as well.
The border wall truly can't come fast enough.
Source: Hot Air