Army Vet Spots Puppy Trapped Inside Overheating Car – Then He Leaps Into Action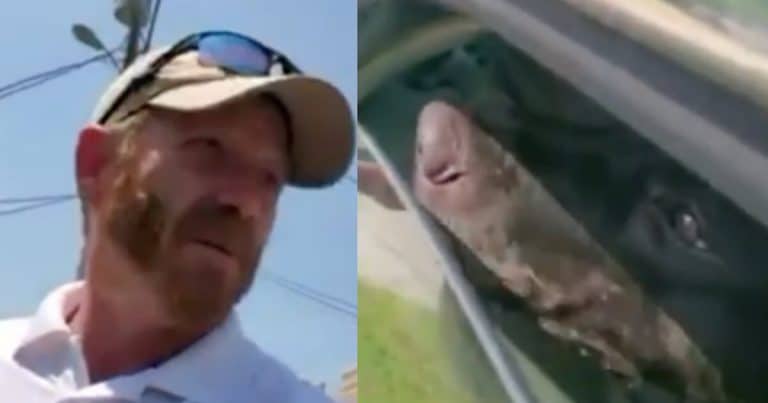 This hero knew exactly what he had to do!
When Army veteran Jason Minson spotted a puppy trapped inside an overheating car, he knew what he had to do.
Two traits kicked in immediately:
The first was Minson's Army training – protect the weak at all costs.
The second trait that kicked in was his animal-loving nature. See, he has a service dog named Rex himself.
The pup in question was locked inside a car on a very warm spring day; the window was cracked, but that obviously wasn't good enough.
Minson first fed the dog water through the crack in the window, which was a great idea.
But again, it wasn't enough. And though he'd called 911, it was taking a while for the authorities to show up…
What to do?
The temperature was climbing well into the 80s and the poor pup was starting to labor.
Well, there was only one thing left to do:
Minson smashed the window to free the distressed animal!
He did what was necessary, and that's that. As he told WTKR:
"It's cruelty leaving a living being in conditions that hot, it's just cruel.

I honestly didn't think the dog would make it long enough for the fire department to get there."
And he might not have made it, either. Minson ABSOLUTELY did the right thing.
Furthermore, leaving a dog in the car in such heat is actually a felony in the state of Virginia.
Looks like the negligent owner is going down for endangering this innocent animal!
As for Minson, he believes in treating animals exactly as you'd treat children:
"They depend on us to take care of them just like a child would.

If you're going to be a dog owner, you have to step up to those responsibilities."
Exactly correct.
This Army veteran isn't only brave, he's compassionate and kind, and he doesn't hesitate when action is required.
This is exactly the sort of person who should be getting our respect and appreciation!
SHARE this wonderful story; it'll give your friends a boost today!
Source: Liftable