BLM Boss Nailed with More Devastating News – She Just Suffered a Well-Deserved Loss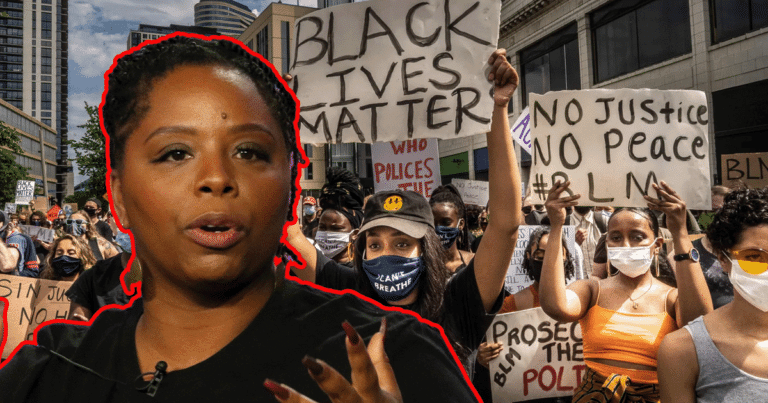 What's Happening:
Anyone who is not a D.C. Democrat has long been suspicious of Black Lives Matter. The founders of this activist group have gotten rich over the years, even as their only contribution to America has been deadly riots. Recently, the official organization has been in hot water on the news that it is in debt by millions of dollars.
But that's only the beginning of BLM's troubles.
One of its co-founders, Patrisse Cullors, left the group after people learned how rich she's gotten. She used much of the money donated to the group to buy several, multi-million dollar houses. You probably didn't know, however, that she signed a massive contract in 2020 with Warner Bros. She was supposed to provide the studio with lots of pro-black content. But now, old Warner Bros is done.
From The Post Millennial:
In October 2020, 39-year-old Black Lives Matter co-founder and former leader Patrisse Cullors signed a multi-year contract with Warner Bros Television Group to create content for the entertainment giant, but the studio quietly ended then relationship last year with no material produced, reports the New York Post…

"The deal unfortunately did not result in any produced shows," the source added.
Lol, wow! Warner Bros signed a deal with former BLM figure Patrisse Cullors. We don't know how much money they gave her, but it was supposed to result in numerous scripts, projects, and shows for the entertainment giant.
But the company "quietly" axed the deal after two years, because Cullors produced nothing.
This woman appears to be the poster child for "Take the money and run." How can someone sign a deal, promising content for a major studio, but come up with nothing? She promised to give Warner Bros scripted comedies, dramas, animated shows, and even documentaries.
Um… that's a lot of content. Even the most gifted Hollywood producer wouldn't be able to come up with that much stuff in just a few years. Warner Bros wouldn't sign a contract like this with Stephen Spielberg.
So, why did they think a radical, Marxist activist was able to produce this much content for them?
Perhaps Warner Bros cared more about her connection with this activist group, than her actual abilities? Nobody from BLM appeared to have any history of writing scripts. But they were praised by the liberal media, so maybe that's what impressed Warner Bros.
Who knows how much the studio spent on Cullors, to receive nothing in return? I guess there's a lesson in that for major corporations…
Key Takeaways:
Warner Bros ended a contract with BLM co-founder after she produced nothing.
Patrisse Cullors agreed to provide a wide array of scripted content but did nothing.
This comes as BLM faces bankruptcy after making its founders rich.
Source: The Post Millennial