After High School Athletes Suspended For "Thin Blue Line" Flag – Trump Shows His Support By Inviting Them Up On Stage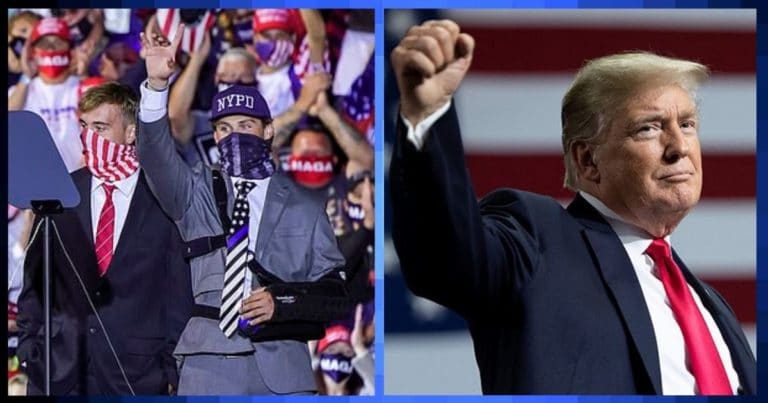 On September 11, two high school football players in Ohio wanted to express their patriotism and respect for our nation's heroes.
Therefore, they each decided to run onto the field flying a "Thin Blue Line" and a "Thin Red Line" flag, respectively.
It didn't go over well.
The school immediately suspended the students for showing off the pro-first responder and pro-law enforcement flags.
However, since the story broke, the backlash was quick and severe — which resulted in the Little Miami school district reinstating the students.
Word then reached President Donald Trump. And he gave these students the thrill of a lifetime (via Breitbart):
President Donald Trump on Monday welcomed two Ohio High School students who were suspended for carrying pro-law enforcement and first responder flags onto their football field.
In front of a packed crowd, POTUS honored these two teens for their show of patriotism and bravery.
The two students, Brady Williams and Jarad Bentley, joined the President on stage, where Trump proceeded to praise them:
They're good looking kids. I want to congratulate you. You've become famous.
The students were asked if they were glad they did it, and Williams answered, "Yeah, more than ever."
Williams also sported an NYPD hat and a thin blue line tie, and Bentley wore a red tie; fitting clothing, certainly.
But the good news didn't end there for the respectful football players:
Holiday for Heroes, a nonprofit group, recently announced they would give both students scholarships.
Trump finished his visit with the youths by saying:
You know what? You're doing great. And everybody out here loves you and appreciates you.
The enthusiastic crowd cheered like crazy and chants of "U-S-A" broke out. It's bound to be a moment these kids won't ever forget.
While we continue to examine our law enforcement and other social constructs, we should at least respect our local heroes, right?
Key Takeaways:
Two high school football players were suspended for flying "Thin Blue Line" and "Thin Red Line" flags.
Public backlash caused the school to reinstate the two players.
President Donald Trump invited them up on stage at his Ohio rally, and told them that "everybody out here loves you and appreciates you."
Source: Breitbart