Reports Claim Barr Could Quit Trump Team – Then Bulldog Bill Sets The Record Straight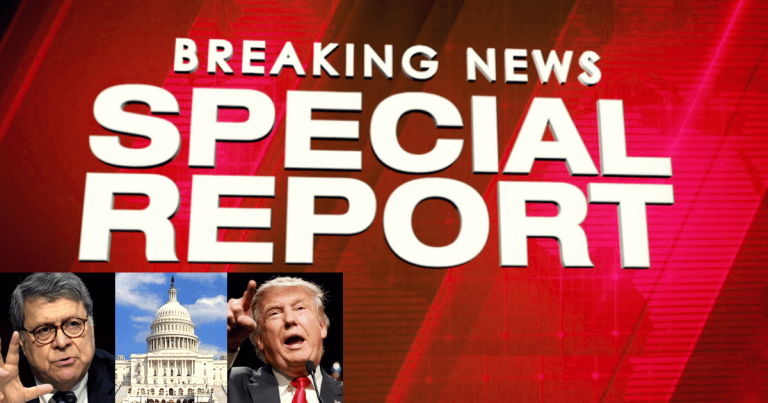 The impeachment attempt is over, but Washington hasn't gone completely quiet.
In fact, we recently heard about a little spat between Attorney General William Barr and President Donald Trump. At least that's how the media's portraying it.
Barr went on record saying Trump's tweets made it difficult for the AG to do his job.
Then various sources – CNN, The Washington Post, and the Associated Press – reported that Barr was actually considering quitting.
If the Attorney General resigned, that could REALLY shake up D.C. And it might make Trump look bad, too.
But have no fear, fellow citizens — all appears to be well on Capitol Hill.
Barr's official spokeswoman Kerri Kupec clarified the situation on Twitter: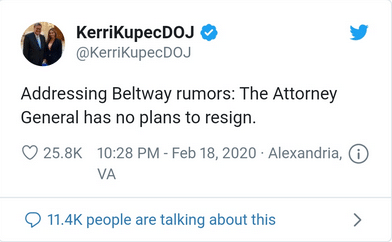 Addressing Beltway rumors: The Attorney General has no plans to resign.
That clears that up, doesn't it?
Barr obviously isn't going anywhere, according to Kupec's statement. And that's probably a very good thing for America.
The AG stood by Trump's side during the aforementioned impeachment process, and I think he's a valuable ally for Trump followers.
He did say he thought the President's tweets were "disruptive," which I understand.
Similarly, Trump understands as well: in speaking to reporters this week, POTUS admitted it:
Yeah, I do make his job harder. I do agree with that. I think that's true. He's a very straight shooter. We have a great Attorney General, and he's working very hard.

And he's working against a lot of people that don't want to see good things happen, in my opinion.
Doesn't sound like these two are fighting, does it? It just sounds like they occasionally step on each other's toes, which happens in any workplace.
Furthermore, Trump added that social media is "very important" for him because it gives him a voice he "doesn't get in the press."
That also seems 100 percent true to me.
But in the end, the rumors swirling about Barr resigning apparently aren't true at all. And Barr and Trump still seem to be great allies.
That's all good news, I think!
SHARE if you believe AG William Barr is a real friend to our President!
Source: The Daily Wire