Bill Barr Slams Back At Democrats – Reveals His Bulldog Is Investigating 'Private Actors' Outside FBI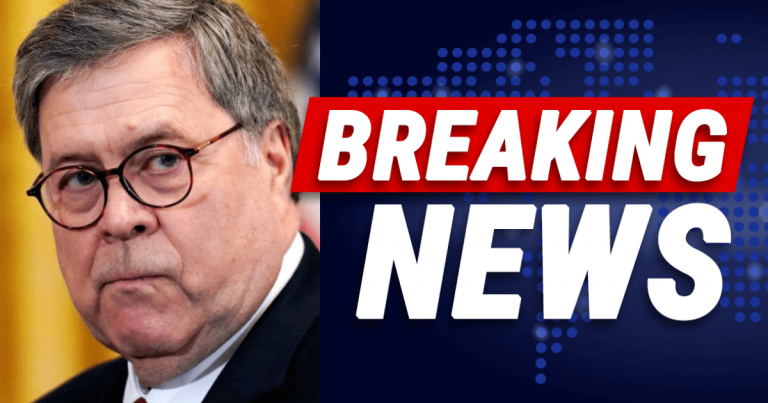 She never saw the Attorney General coming – gotcha!
Washington was rocked by IG Horowitz's report on how the FBI conducted their "Russian investigation."
We now know that Trump and other Republicans were right all along. Obama's FBI omitted crucial information when they requested a warrant to spy on Carter Page.
They also altered documents submitted to the court.
That's only the tip of the iceberg. Bill Barr's bulldog has been hunting down all the leads. His criminal investigation is growing much wider than originally expected.
It seems he opened a Pandora's box of evidence. In a recent interview, Barr admitted they are going after more than just the FBI.
From Daily Caller:
Attorney General William Barr provided new details Wednesday of U.S. Attorney John Durham's investigation of the origins of the Trump-Russia probe and said in an interview on Fox News that the federal prosecutor is looking into the activities of federal agencies outside the FBI, as well as those of "private actors."

"He's not just looking at the FBI," Barr said of Durham. "He's looking at other agencies … and also private actors, so it's a much broader investigation."
Uh-oh! Barr admitted that his bulldog Durham is looking into more than just the FBI's schemes. He is investigating other agencies and private actors.
What could that mean? Private actors is pretty vague. All he is saying is that people outside the government are being looked into.
If so, this is pretty huge. That suggests that the scheme to take down the Trump campaign went beyond the FBI.
Which actors are we talking about? The DNC heads? Former presidential candidates?
Super PACs that funneled money in bogus dossiers?
I'm thinking Hillary Clinton should be getting nervous right about now.
SHARE to tell Barr to bring all the Democrats to justice!
Source: Daily Caller