AG Barr Pulls Off The Swamp Mask – Orders Attorney To Start Fresh Unmasking Investigation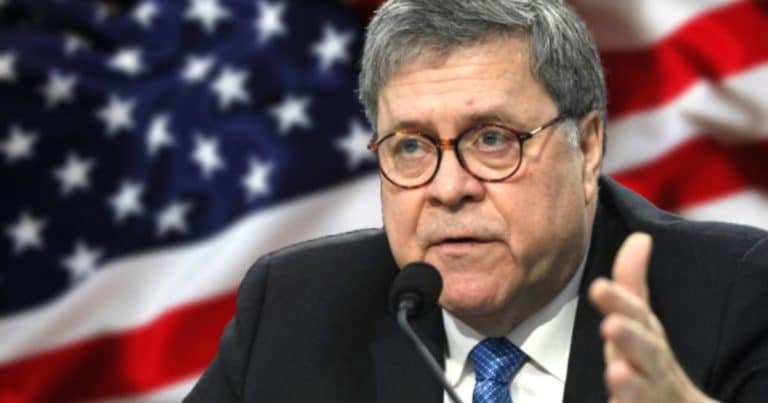 The Flynn unmasking scandal appears to be only growing. And A.G. Barr wants answers for the American people.
Confusing reports about Flynn's unmasking have floated around the news. It appears top officials wanted to reveal his identity, but are publicly denying it.
So, Barr is directing a top attorney to get to the bottom of it.
From The Hill:
Attorney General William Barr has asked a U.S. attorney to look into the practice of "unmasking" before and after the 2016 presidential election…

"Unmasking inherently isn't wrong, but certainly, the frequency, the motivation and the reasoning behind unmasking can be problematic… looking specifically at who was unmasking whom, can add a lot to our understanding about motivation and big picture events," Kupec said.
A.G. Barr is asking a U.S. attorney to look into the practice of unmasking that was going on before and after the 2016 election.
According to a DOJ spokesperson, he wants to figure out exactly why the government was unmasking people.
She also connected this request to the ongoing John Durham investigation, which is looking at how our government handled the "Russian probe."
Our Take:
This is a pretty big deal. We know that Durham has been going after the people who wiretapped and investigated Trump during the election.
Durham even intensified his investigation when he announced it had turned into a criminal investigation.
To connect this unmasking request with that case suggests Barr smells wrongdoing in the air.
According to a released document, top Obama officials requested to unmask Michael Flynn. That isn't illegal.
But soon after he was unmasked, his identity was leaked to the press. That is illegal.
We don't know who leaked his name, but it might have been one of Obama's top people.
Add to that the ongoing concern from Americans that Flynn was wrongly prosecuted, you have a real storm brewing.
Many patriots believe Flynn was used as a pawn in a larger scheme to undermine Donald Trump. The circumstances around Flynn's investigation and the Russian probe raises plenty of questions.
It looks like Barr is worried too. Did Obama officials use the practice of unmasking as a way to interfere with the incoming administration?
Was this part of the large scheme, called "Obamagate" to hurt President Trump?
Seems like Barr wants to find out.
SHARE to tell Barr to get to the bottom of this.
Source: The Hill