AG Bill Barr Launches Fresh Obama Investigation – He Appoints Texan US Attorney To Review Obama Admin Unmaskings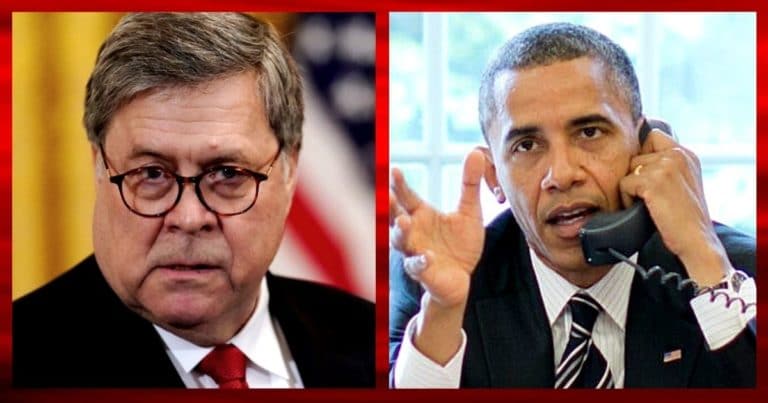 What's Happening:
Much has been said about how Democrats handled (or mishandled) this week's hearing with Attorney General Barr, but it appears a significant moment has been largely overlooked among the bruhaha.
Rep. Jim Jordan asked Barr for updates on the Justice Department's ongoing investigations.
And Barr mentioned a new development that should have Obama's old team worried:
Attorney General William Barr disclosed Tuesday that he has directed John Bash, the U.S. attorney for the Western District of Texas, to investigate the "unmasking" of former national security adviser Michael Flynn…

Asked about the large number of people in government who were involved in Flynn's unmasking, Barr told a surprised Rep. Jim Jordan, R-Ohio, the top ranked Republican on the House Judiciary Committee during a hearing Tuesday that he had assigned Bash to uncover them.
For some time now, the Justice Department has been investigating the various Obama officials involved in cases against Donald Trump.
U.S. Attorney Durham has been investigating the original Russian probe that blew up into the Mueller probe. It was announced last year that the investigation has grown into a criminal investigation.
Jim Jordan asked about other ongoing investigations and Barr revealed that he has assigned another U.S. attorney to look into the unmasking of Michael Flynn.
Much of the problems former Trump staffer Flynn has experienced is the result of Obama officials unmasking his name during their wiretapping.
Unmasking isn't illegal, but the subsequent leaking to the press is. As of today, there has been no official revelation of whom might have unmasked or leaked Flynn's name to the media.
The liberal media has used the Flynn case to "prove" Donald Trump worked with Russia. Even though it has been argued that Flynn did nothing wrong during his talks with Russian ambassadors.
His case arose from him allegedly lying to the FBI. A claim Flynn later withdrew.
The DOJ, under Barr, dropped the charges against Flynn. But apparently Obama-friendly judges continue to drag the case out.
John Bash will not be leading an investigation into who unmasked Flynn in the first place. Discovering who that was could lead to the person who leaked it to the press.
That might lead to other revelations, ones that Obama and his people prefer in the dark.
Key Takeaways:
AG William Barr revealed during a House hearing that he's assigned an attorney to investigate Flynn's unmasking.
S. Attorney John Bash, of Texas, will be investigating who within the Obama administration exposed the former Trump staffer.
Flynn has battled legal challenges and slander in the press ever since he was unmasked.