After Bernie Claims Polls Show Him Beating Trump – New Poll Claims Trump Will Roll Over Sanders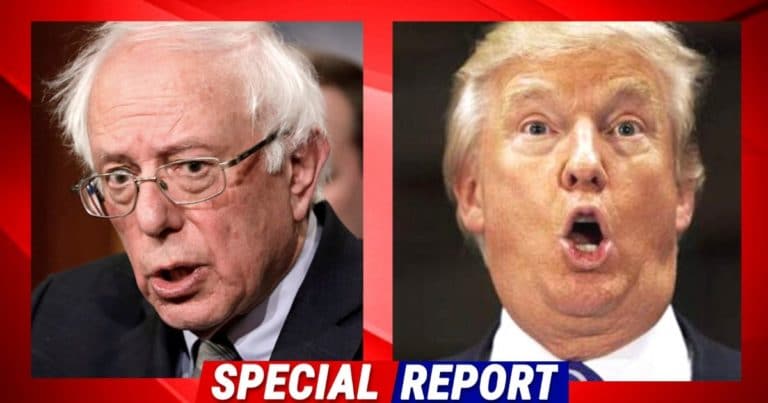 During the last Democratic debate, some of the candidates argued that Donald Trump would destroy Bernie Sanders.
Pete Buttigieg even said a Sanders/Trump race would result in chaos for the rest of 2020. How did Bernie respond? The socialist claimed all the polls said he would beat Trump easily.
Really? I would like to see those polls, Bern.
Because a recent Rasmussen poll tells a very different story.
From Rasmussen Reports:
President Trump would KO Democrat front-runner Bernie Sanders if the 2020 presidential election were held today.

The latest Rasmussen Reports national telephone and online survey finds Trump earning 50% support among Likely U.S. Voters to Sanders' 43%. Seven percent (7%) are undecided.
Hmm. Maybe Bernie's people are trying to keep this report from him. Because Rasmussen says Trump would beat Bernie by a large margin (50-43).
This is one of the reasons why the Democratic establishment are freaking out. Even Obama has expressed fear that Bernie might get the nomination.
Does anyone really think Bernie Sanders can win over moderate Democrats, independents, and swing voters?
His plan will probably result in higher taxes, government-run health care, and a crippled energy sector.
Americans love socialism as much as they love the plague. Not at all. On top of that, Bernie continues to find the bright side about men like Fidel Castro—even Democrats who remember socialism are shocked by this.
Sanders might be looking at the wrong polls. Or perhaps he got the names mixed up?
SHARE if you are going to help Trump thump Bernie in 2020!
Source: Rasmussen Reports