Bernie Sanders Loses It Over Coronavirus – Goes Off On Reporters, Refuses To Answer Questions About His Fading Campaign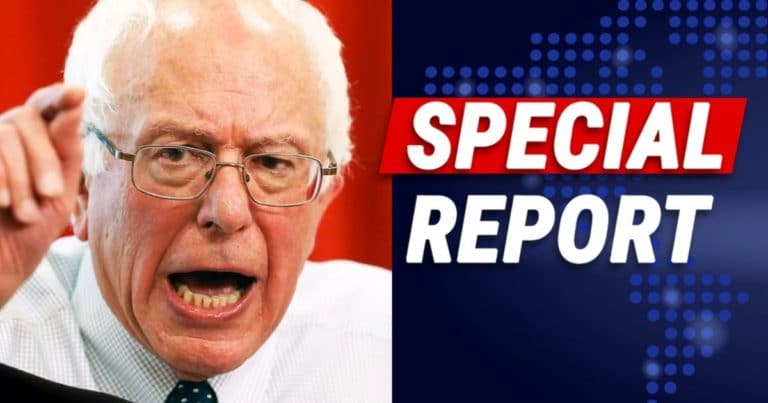 Oh, poor Bernie Sanders. It seems almost everyone has forgotten about him. That might be the best outcome for this "Democratic socialist."
Not too long ago, he was leading the Democratic primary. Then the liberal establishment made sure Joe Biden would snatch up all the delegates.
Now it seems Bernie is facing a repeat of 2016, with the nomination robbed from him at the last second.
With the coronavirus hitting our nation hard, it seems the government might be dipping into a little bit of temporary "socialism" in the form of bailouts and checks.
Maybe Sanders could have used this as a chance to promote his agenda, right?
Nope! The man just melted down in front of reporters. WARNING: Bernie decided to use some colorful language.
From Twitter: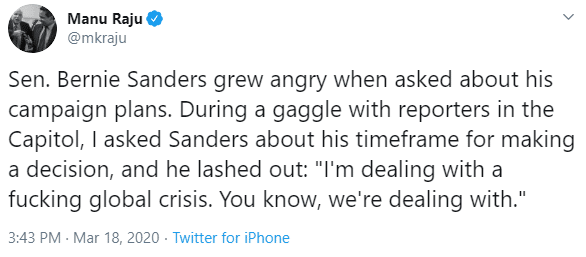 Sen. Bernie Sanders grew angry when asked about his campaign plans. During a gaggle with reporters in the Capitol, I asked Sanders about his timeframe for making a decision, and he lashed out: "I'm dealing with a f***ing global crisis. You know, we're dealing with."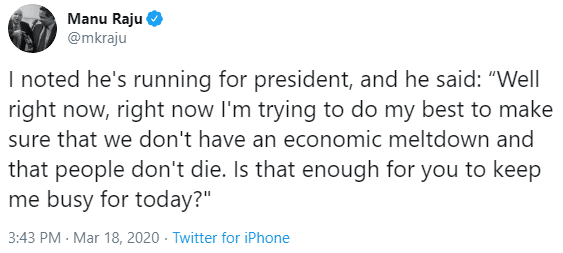 I noted he's running for president, and he said: "Well right now, right now I'm trying to do my best to make sure that we don't have an economic meltdown and that people don't die. Is that enough for you to keep me busy for today?"
Uh… wow. When asked what Sanders was going to do about his campaign, he lashed out at reporters.
He dropped an f-bomb, saying he was dealing with a "global crisis."
Oh, really, Bernie? You're dealing with it all on your own? What the heck have you been doing about COVID-19, anyway?
From what I've seen, the lion's share of the burden is on our medical workers. The federal government is running a task force to coordinate efforts.
States and local leaders are pulling more than their weight. And the American people are taking a huge hit by staying home to ensure the most vulnerable survive.
But, no. You're the only person dealing with this *#$@*# crisis.
Yeah, I get it. It must be stressful to get robbed of a nomination twice. But the only person he can blame is himself.
He was losing it long before the outbreak hit. He refused to fight his rivals, opting to slander Trump in campaign ads and speeches.
Maybe, if he had an ounce of guts, he'd be in the driver's seat. But… no. The man is coming unraveled. Much like Joe Biden's brain.
SHARE to show everyone how Socialist Bernie is losing it.
Source: Twitter