Freezing Man Asks Bernie Supporter For His Coat – The Socialist Answers, You Can 'Go Buy One At The Store'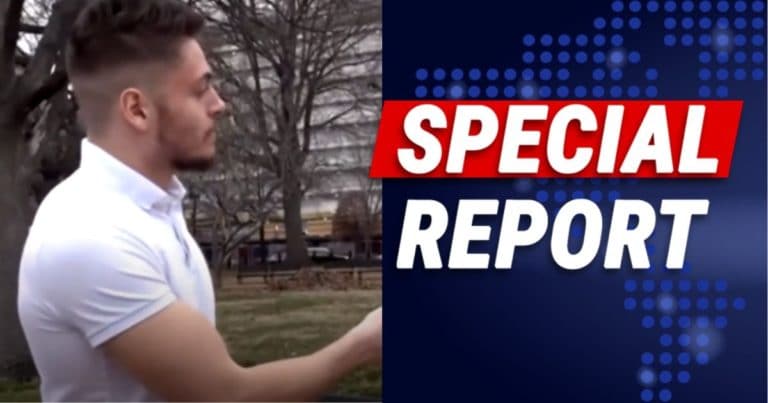 If you hadn't noticed, socialist Bernie Sanders has a shot at earning the Democrat nomination for President.
And if he beat current President Donald Trump, Sanders would be the country's first socialist leader.
…that scares a lot of people.
Maybe it's because socialism doesn't appear to have worked in ANY country.
Or maybe it's because it seems blatantly hypocritical at its core. Those who support it don't really want to give up their personal property.
Case in point: The Daily Caller's Matt Miller approached some Bernie supporters outside the White House.
Miller was purposely not wearing a jacket or coat. And he was cold.
So, he asked these would-be socialists for some help … and the results were pretty telling.
The first thing he does is ask people about democratic socialism, and whether they support Sanders.
Once he gets the answer, he asks for their jacket because he's freezing.
One guy's response:
Well, uh, that's really unfortunate, but there are several opportunities in America, um, to provide yourself an income, and therefore, um, having one will give you access to a jacket.
And Miller's reply was just spot-on:
"That sounds like capitalism, though."
The poor guy couldn't help but agree. And of course, he had no other answers; no way of explaining how socialism would get Miller a jacket.
But maybe the best response was this — it comes from someone else who's just fine with socialism.
After Miller asks for the guy's jacket, he says:
I would be cold then, so I don't know why you'd want to borrow my jacket.
Are we starting to see a trend here?
It seems like these people are supporting a certain ideology, with absolutely no clue how it's going to work.
And that's the problem, isn't it? Bernie Sanders and socialist supporters don't appear to know what they're voting for!
Socialism isn't the answer, in my opinion, and never has been for any country around the world.
Wouldn't you agree?
SHARE if you think America should NEVER be a socialist nation!
Source: Western Journal