Beto's PAC is trying to flip Texas blue – They are going after 1.4 million unregistered new movers to Texas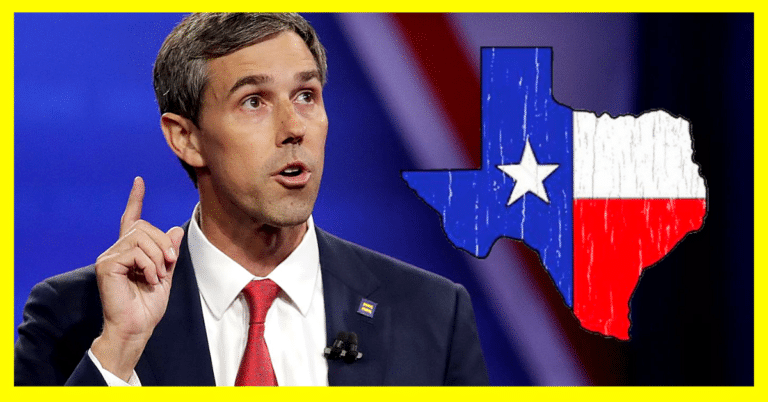 What's Happening:
Robert Francis O'Rourke, better known as "Beto" lost his bid to take Ted Cruz's Senate seat. He later lost his chance at becoming the Democrat presidential nominee, when he bowed out to give Joe Biden a boost.
But the Democrat has set his sights on flipping conservative Texas into the next San Francisco. And his political action committee is targeting new residents:
Beto O'Rourke and his band of volunteers are entering the next phase of their effort to help Democrats win the Texas House.

Members of the political action committee, Powered by People, have met their goal of contacting more than 350,000 Democrats who recently moved to Texas but have not registered to vote here. It's part of a broader plan to try to register about 1.4 million new residents who voted for Democrats in their former states.
It's common knowledge that many Americans are fleeing failed blue states to the greener pastures of Texas, Florida, and Nevada. These states are prospering, even during the pandemic, because of their long history of Republican leadership.
However, O'Rourke hopes to target newcomers, convincing them to vote for Democrat candidates. His strategy exposes the fact that he doesn't want long-time residents to decide the course of their state. Instead, he's hoping to convince new arrivals–who came because of conservative values that produced prosperity–that they should swap out Republican leaders with new Democrat ones.
Conservatives point out the obvious: that if Texas goes the way of New York or Washington, it will quickly lose. Texas thrives because of a pro-business approach, with low taxes (and no state income tax). Should Democrats "flip" the state, much of that will change. Taxes will most likely soar and years of prosperity will grind to a halt.
O'Rourke's plan might work, however, in securing enough votes to flip key districts. If newcomers are unaware of why Texas is prosperous, they will vote for liberal leaders. Republicans would be wise to not take these newcomers for granted, and reach out to them as well.
That includes Texas natives, who should motivate their families and friends to vote red.
Key Takeaways:
Fail candidate "Beto" O'Rourke is trying to flip Texas blue.
His PAC is targeting new arrivals, hoping they will vote for Democrats in the coming election.
The state has enjoyed years of prosperity thanks to low taxes and conservative values, yet all that is in jeopardy if newcomers vote for Democrats.
Source: Dallas News