President Biden Goes "1984" On Washington – In Orwellian Twist, Joe Redefines Bipartisanship To Cut Out Congress Leaders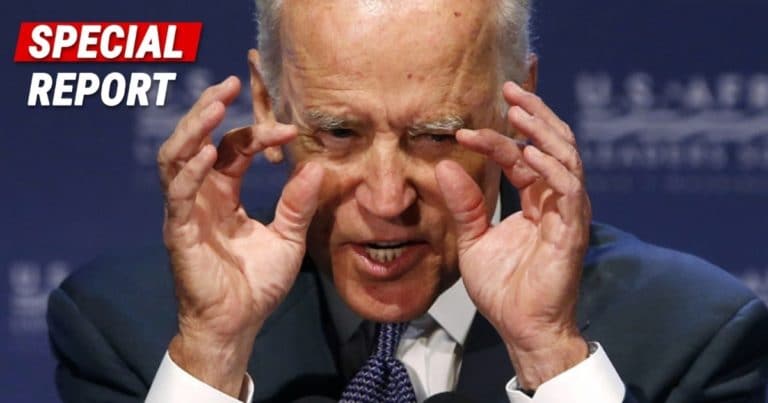 What's Happening:
You'll get a kick out of this story.
Joe Biden once claimed he was going to "unite" the country. He and his allies wanted to embrace bipartisan policies to "heal" America.
He hasn't even tried to do that. Not even a little bit. Even liberals are starting to admit it.
"Bipartisanship" means cooperating with all parties, seeking input and solutions everyone can agree on.
Obviously, that's not what Biden nor Pelosi and Schumer, are doing. So, the crooked politician is just redefining the word.
From Daily Mail:
White House officials, as they push President Joe Biden's agenda through Congress, are giving new meaning to the phrase 'bipartisan support,' arguing it doesn't mean winning Republican votes on Capitol Hill.

'If you looked up 'bipartisan' in the dictionary, I think it would say support from Republicans and Democrats,' Anita Dunn, a senior Biden adviser, told The Washington Post. 'It doesn't say the Republicans have to be in Congress.'
Boy, that's rich.
Biden and his henchman are now saying "bipartisan" means getting support from Republicans, any Republicans, not necessarily those in Congress.
You know, the Republicans that are actually needed to pass legislation!
Biden seems to think if he can get Republican "voters or mayors and governors" to support his far-left agenda, then he can say he is being "bipartisan."
What the heck does that even mean? Who cares if Biden can dig up some corrupt, has-been "Republican" mayor who says he's okay with Joe destroying our economy?
It doesn't matter if a Republican governor supports some terrible idea Biden has. Their support doesn't matter when it comes to passing new laws.
Biden thinks these mental gymnastics are going to bamboozle Americans. He'd better think again.
Bipartisanship only exists when parties within the same level of government work together. Biden and Democrats in Congress seem to have no intentions of cooperating with Republicans in D.C., no matter how they use the word bipartisan.
So, instead they think they can sell Americans a bill of goods, instead of doing the hard work of finding common ground.
The very thing they were elected to do.
It's so pathetic, it's almost laughable.
Do you think Biden and Democrats are trying to be "bipartisan?"
Key Takeaways:
Biden and his staff are trying to redefine "bipartisanship" after months of refusing to work with Republican congressmen.
They claim that if they get support from "any" Republican, it counts as bipartisanship.
Biden and Democrats in D.C. have gone out of their way to reject Republican input.
Source: Daily Mail