Biden Knocked Over by Triple-Whammy – Joe Crashes Through the Bottom, Gets 3 Concerning Polls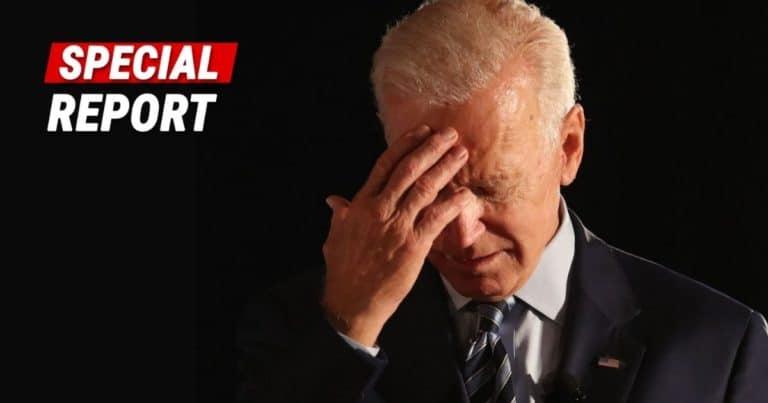 What's Happening:
Let's get right to it. Biden continues to suffer from low support across the country. He's just hit a new low, according to Gallup.
From The Hill:
President Biden's approval rating sank to a new low since Gallup conducted its first survey of the president's approval rating in January 2021…

The Gallup poll found that 38 percent of voters approve of Biden's job as president, down from 41 percent last month.
That's down from 57%, back in January 2021. But wait! There's more. Biden's losing support among Asian Americans.
From Townhall:
According to a July Pew survey, 55 percent of Asian-American adults either strongly or somewhat disapprove of Biden's performance on the job, while 44 percent somewhat or strongly approved.
Back in April 2021, 72% of Asian Americans approved of Biden. That's a horrific 30-point drop. Disaster territory to say the least.
But it gets even worse for Joe and his party, among one of their cherished demographics.
From Daily Wire:
To the absolute despair of the Democratic Party, a new poll finds that the surge of support among Hispanics for the Republican Party has grown so strong that a virtual tie exists between support for the Democratic Party and the Republican Party.
🚨🚨

A new CBS poll shows a statistical tie among Hispanics in the 2022 generic ballot.

Context: Democrats won Hispanics by 40 points in 2018.

This is a seismic shift in American politics. pic.twitter.com/ykUJcy3SIO

— Giancarlo Sopo (@GiancarloSopo) July 31, 2022
Wow, this is bad. Even with the support from the mainstream media. Even with social media and other outlets spinning his many failures.
Joe Biden continues to suffer tremendous losses in various polls, among many groups.
Biden is at a dismal 38% in the left-leaning Gallup poll. That's down from 41% just last month. And down from 57% when he entered office.
Worse still is his ranking among Asians and Hispanics. He's lost 30 points of support from Asian American voters.
According to a Quinnipiac poll, Biden enjoys just 26% support. That has amounted to stunning losses for the entire party.
In a new CBS poll, only 45% of Hispanic voters support Democrats. Forty-two percent support Republicans. That is a tie, when considering the margin of error.
Biden enjoyed two-thirds of the Hispanic vote in 2020. But if these polls are any indication, his party is going to lose almost half of those voters.
He's lost a huge number of Asian voters as well.
How ironic. The party that "champions" minorities is doing a great job driving them away.
Perhaps it's because Biden and his Democrats spent the last year ignoring Americans and catering to globalists?
Biden's agenda has crashed and burned if these polls are any indication. But the worst is probably yet to come for his party.
Key Takeaways:
Joe Biden's latest Gallup approval poll is at 38% approval.
He has lost 30% of the Asian American vote.
Hispanic approval is at 28%, with 42% planning to vote for Republicans.
Source: The Hill, Daily Wire, Townhall