After Biden Begs Americans to Brag on Him at Thanksgiving – Patriots Turn the Tables on Joe and His List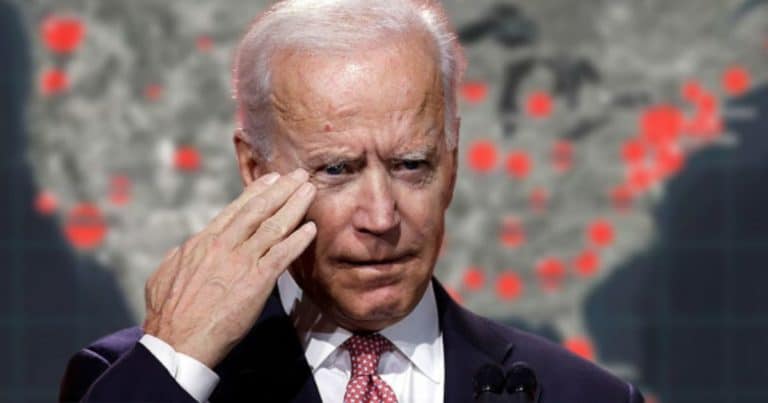 What's Happening:
Just before Americans gathered together to celebrate Thanksgiving, Biden's chief of staff released a list of "accomplishments" of the administration. They ordered Americans to argue with their families, pushing the claim that Biden hasn't been a train wreck.
But the list of "accomplishments" was oddly thin. And the ones Klain did list seemed… a little off. So, Republicans quickly pushed back and exposed just how non-impressive Biden's greatest achievements actually was.
From Fox News:
Republicans are ripping a list touting President Biden's "accomplishments" that the White House said could be used as talking points "for when chatting with your Uncle at Thanksgiving."

[…] The list of Biden's accomplishments included, "10 million jobs created" and "no taxes on people making above $400,000 – he kept his promise." […]

The Republican National Committee highlighted the gas prices claim on Twitter.
Yes, and be sure to bring the receipt from the gas station, where you're paying ~$1.21/gallon more than the day Joe Biden took office. Go figure https://t.co/PYldXoNLkg

— Jake Schneider (@jacobkschneider) November 23, 2022
"Every American family at the dinner table knows that Joe Biden has created the most expensive Thanksgiving on record and his war on American energy has caused the price of gas, diesel and home heating to skyrocket," Rep. Elise Stefanik, R-N.Y., told Fox News Digital.
It's really quite sad that the White House produced this pathetic list. Most of the "accomplishments" aren't even accomplishments, just spin on Biden's failures.
But then patriots quickly set the record straight on Biden:
One last item for YOUR Thanksgiving dinner: pic.twitter.com/0O7YFMQGd4

— Veda F (@f20_veda) November 23, 2022
Absolutely… no one should forget how much extra they are spending because of Biden's policies.
But maybe the entire list should just be replaced:
Maybe the niece/ nephew is the problem. pic.twitter.com/TfKHMMXxgg

— Kevin (@kevinpost) November 23, 2022
Biden claimed he lowered gas. Not even close. He is responsible for rising gas prices. They are lower than they were in June, but are still higher than when he took office. Biden also claimed he created 10 million jobs.
Nope. The economy added back jobs lost during the lockdowns. It had nothing to do with Biden, who by the way threatened 100 million American jobs with his mandates.
Then there was this beautiful typo. Biden claimed he created "no taxes on people making above $400,000." Well, that's not even right. Biden promised not to raise taxes on people making less than $400,000.
But he didn't even do that! His inflation bill was found to raise taxes on working-class and middle-class Americans. But it does provide tax breaks to the richest Americans. So maybe that claim is accurate!
The end of the list was just an attack on Republicans, claiming they are EXTREME. Okay, how is that an accomplishment, Joe? He couldn't come up with just a few real achievements after two years and ended by slandering his rivals.
Pretty much sums up this failed presidency.
Key Takeaways:
Republicans mocked Joe Biden's list of "accomplishments."
Biden tried to spread this propaganda before the holiday.
Users pointed out that most of the achievements were failures. Some were even outright incorrect.
Source: Fox News