Joe Biden Pulls Beto O'Rourke Back In – Tells America He Wants Beto To Head Up Gun Control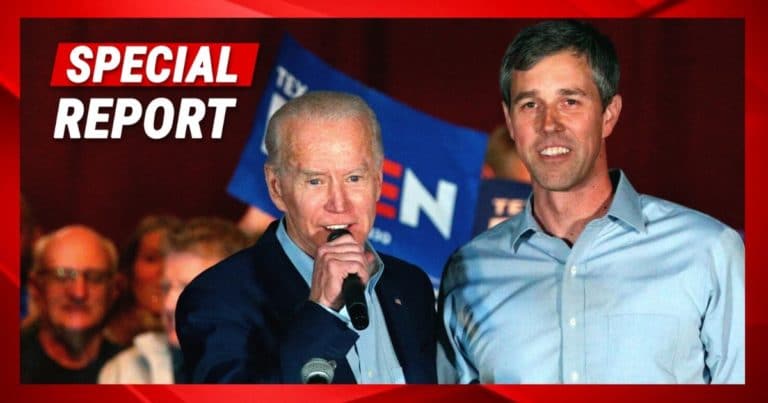 We thought we saw the last of Robert Francis "Beto" O'Rourke. And quite frankly, we were fine with that.
Honestly, I'm sure most of you forgot he ever ran for president!
He was one of the first to drop out, after he realized… nobody was on his side.
But now that Joe Biden's off the proverbial respirator, he's looking to O'Rourke for some help.
He's dragging the El Paso native back into the race. You won't believe why.
From Breitbart:
During a Monday evening campaign stop in Dallas, Texas, Democrat presidential hopeful Joe Biden said Robert "Beto" O'Rourke will "be the one who leads" Biden's gun control push…

O'Rourke, for his part, endorsed Biden for president, saying, "The man in the White House today poses an existential threat to this country. To our democracy. To free and fair elections. And we need somebody who can beat him. And in Joe Biden, we have that man."
Yeah, you read that right. Joe Biden is tapping twice-failed political candidate Robert O'Rourke to lead his anti-Second Amendment push.
You might remember Beto's plans for your guns. He, without hesitation, backed gun confiscation on numerous occasions.
Biden is considered the "moderate" candidate, yet he is embracing a scorched-earth policy for his gun control platform.
If you had any question about Biden's intentions, get a load of this:
Let's be honest: Joe Biden is old. He's hoping to get the support of all these young liberal "stars" to boost his campaign.
He got Buttigieg to back him (big whoop!). Now, he's hoping O'Rourke can win over the far-left in California.
But does he really think giving such an important role to O'Rourke will win him support in November?
There are plenty of Democrats in this country who love their guns—they want to be able to protect themselves. Beto once promised to use law enforcement to take away your firearms.
That's the crazier thing I've heard since… the last thing Biden's said!
SHARE to make sure everyone knows what Biden has planned for the Second Amendment.