Joe Biden Gets Blindsided By Mexico – Their President Just Threw Joe Under The Illegal Bus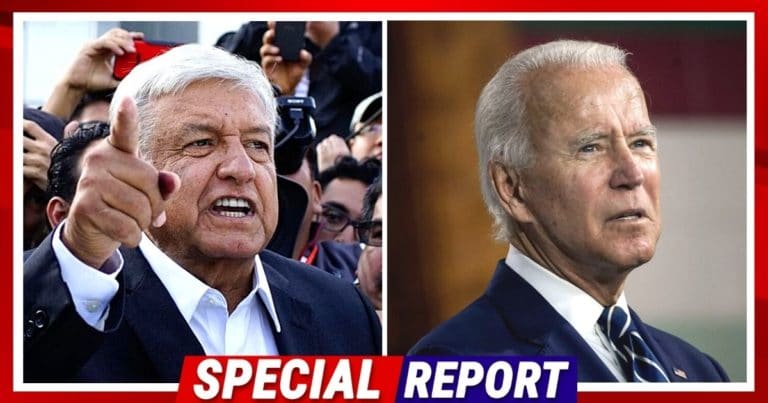 What's Happening:
People have accused Joe Biden of trying to cover up the exploding crisis at the border.
Soon after Biden ended a variety of Trump's border policies, the aliens started flowing in.
Border Patrol and other agencies have been overwhelmed with the number of people trying to illegally enter the country.
Some even believe that Biden is hiding the real number of aliens stuck in detention centers.
But he can't hide it anymore, after the President of Mexico went straight at him.
From Daily Wire:
Mexico's left-wing government is reportedly concerned that Democrat President Joe Biden's policies are sparking a massive surge in illegal immigration to the U.S. and are providing business for the nation's violent drug cartels…

Mexico is "worried the new U.S. administration's asylum policies are stoking illegal immigration and creating business for organized crime."
Under Trump, Mexico and the United States actually worked together to stem the tide of illegal immigration.
We had an agreement that migrants had to apply for asylum in the first country they reached. For many, that was Mexico.
Those seeking asylum in the U.S. had to remain in Mexico until their case was processed. That was actually a good thing for both countries.
But thanks to Biden, illegals think the border is wide open. That means millions might trample over Mexico, leading to a record spike in organized crime.
Mexico constantly struggles with drug cartels and human traffickers. Trump's strong stance helped curb these ugly activities.
But Sleepy Joe is either unaware of the dangers, or simply doesn't care.
Mexico's president reportedly slammed Biden's administration for helping crime surge. Biden's terrible policies will hurt both countries.
President Lopez Obrador called on Biden to work with Mexico to "regulate the flow." But currently, Biden's administration is like a little Dutch boy trying to stop a breaking dam with his thumbs.
It's clearly not working and even Mexico feels the flood about to burst.
Key Takeaways:
Mexico's president criticized Joe Biden's lax border policy.
He accused Biden of letting organized crime surge due to an open border.
Under Trump, both Mexico and America benefitted from a lack of illegal immigration.
Source: Daily Wire