Biden Breaks Concerning Record 4 Months Early – Under Joe's Leadership, 2 Million Arrests Go Down at the Border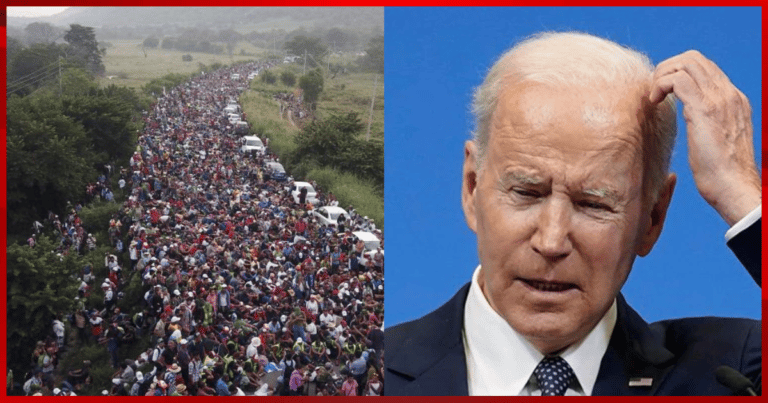 What's Happening:
There are not many records Biden can claim he's broken. And none of them are wins for the United States.
Under Joe's leadership, American prosperity has taken a nose dive. It's only getting worse, thanks to one major crisis.
The problem keeps getting worse–and now, Biden's just hit a new, terrible milestone.
From Daily Wire:
The situation at the southern border has deteriorated so badly during the Biden administration that for the first time, over two million immigration arrests were made in eleven months, reaching a new threshold.

Instead of blaming their own lax policies vis-à-vis immigration for the problem, Biden administration officials blamed governments in Latin America, The Washington Post reported.
It's always someone else's fault, eh Joe?
Thanks to Biden's failed border policy (if you can even call it that), border agents made two million arrests in eleven months.
A new record!
Biden is blaming Latin American governments for doing nothing to fix the problem.
Bu-but… I thought Kamala fixed that problem by giving them millions in bribes–I mean, "support"?
Didn't Kamala say this problem was done, because of all the money we gave to these countries?
Now, Biden is whining that these governments (representing failed, third-world dictatorships in some cases) are stopping millions from flooding our country.
Why would they? It would only benefit Latin America for millions of their people to come to America.
First off, that's millions fewer they have to worry about. Millions of mouths they don't have to feed, millions of people they don't have to take care of.
Plus, most of these aliens take American jobs and send money back home. So these Latin American countries are double dipping!
Money from Biden and money from these illegal workers. It's a win-win!
Only an idiot would have expected these governments to pitch in, with no leverage. But if you close the border and enforce our laws, then these countries would have had to comply.
Biden is doing nothing, so the hordes keep coming.
Key Takeaways:
Border arrests reached 2 million in eleven months, a new record.
This is the result of Joe Biden's open border policy and refusal to deport aliens.
The Biden administration refuses to take responsibility but blamed Latin America.
Source: Daily Wire