Biden Waves The White Flag In China Call – Weak Joe Backs Down On Major Issues And Begs For Oil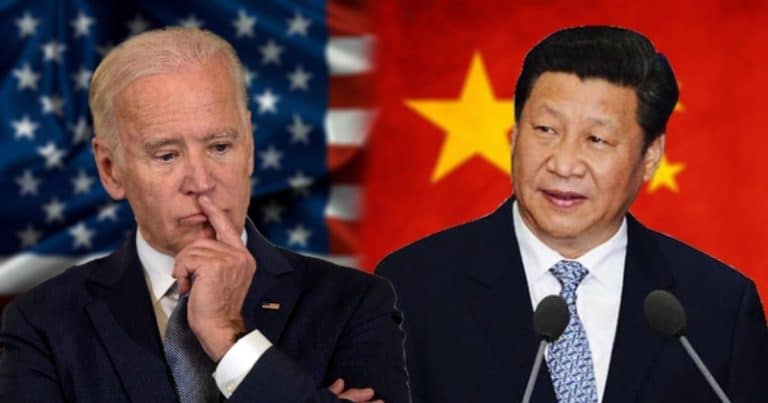 What's Happening:
After nearly a year in office, Joe Biden finally engaged in talks with China's dictator, Xi Jinping. And, although these two seemed to have a chummy relationship in the past, it did not go well. China walked all over Biden, threatening the U.S. if we bothered to defend Taiwan from their advances.
Biden did not seem willing to stand up for the American people or Taiwan. In fact, he seemed to be cowering to a man responsible for the crisis of 2020. And when it didn't seem he could grovel any lower, he seems to have managed to find a new low. Now, people are calling him out.
From The Epoch Times:
"President Biden had the chance to actually stand up to Beijing's genocide and human rights abuses, but again, he has chosen appeasement and weakness over strength and resolve," said Sen. Rick Scott…

According to China's state-run media, Xi warned Biden that China "will have to take decisive measures" if so-called Taiwan independence forces "cross the red line."
From Breitbart:
The South China Morning Post (SCMP) on Wednesday quoted a "person familiar with the matter" who said President Joe Biden asked Chinese dictator Xi Jinping to release China's oil reserves, thus stabilizing the high oil prices that have been helping to drive Biden's poll numbers down.
Joe Biden, who during the election promised to go tough on China, reportedly cowered during his hours'-long call with China's Xi Jinping. In fact, he appeared to back down on his commitment to defend Taiwan, one of our allies. This comes as China appears to be gearing up to invade the country and annex it to its regime.
Biden received plenty of criticism for his performance. Some leaders questioned why he was so unwilling to confront Xi over his country's many cases of abuse, including treatment of minorities, the removal of rights to Hong Kong, and the 2020 crisis.
But to make matters worse, it has been reported that Biden begged the communist dictator to release more oil. Really, Joe!? You are going to every other nation in the world for oil, but you won't allow Americans to drill it.
This really takes the cake and calls into question Biden's loyalties. We know he can't stand up to China. But for months, he's been asking Russia, Saudi Arabia, and other countries to help solve our rising gas prices. Now, he's asking China. Even if these countries did comply, it would result in our wealth bleeding off into other nations' coffers.
Why isn't Biden taking steps to solve this crisis and make Americans wealthier and more successful? I can't answer that question. But, once again, we are seeing just how little Biden is qualified to be a world leader.
Key Takeaways:
Biden reportedly cowered before Chinese dictator Xi Jinping.
He backed down on his commitment to Taiwan after China threatened the U.S.
Biden also reportedly begged Xi for oil, as gas prices rise.
Source: The Epoch Times, Breitbart