Joe Biden Could Be In Major China Trouble – The Communists Plan To Flip Top Biden Officials In Alaska On Trump Policies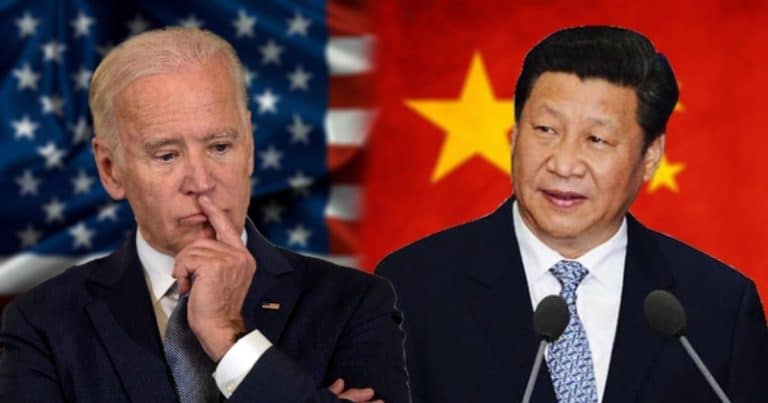 What's Happening:
President Trump marked his administration by taking a strong stance against China. His tariffs on Chinese goods helped level the trade market. And he managed to land important agreements.
How is Joe doing? Well… he said previously he wouldn't let up (despite his past praise of China). Then, he seemed to buckle, claiming China might "eat our lunch."
But we are going to find out exactly how Biden will do with our Commie Competitors very soon.
From Daily Wire:
Communist China is reportedly planning to push the Biden administration in Alaska on Thursday to end the policies that former President Donald Trump implemented to hold China accountable…

"The measures China wants reversed include limits on American sales to Chinese firms such as its telecommunications company Huawei Technologies Co. and chip maker Semiconductor Manufacturing International Corp.; visa restrictions on Communist Party members, Chinese students and state-media journalists; and closure of the Chinese Consulate in Houston."
In the latter half of Trump's administration, he hammered China with restrictions on which businesses can work in America.
And his DOJ also prevented companies from receiving investments from Chinese companies with ties to their military.
This is pretty significant, since senators like Ted Cruz were adamant that China was using its business relationships with us as a backdoor for covert operations.
Now, with Joe Biden at the "helm," China is trying to pressure him to loosen these restrictions.
Letting Huawei to operate in the U.S. once again is especially troubling. Huawei had been accused of spying on customers via their laptops and phones.
Other companies in China are outright owned by the military or high-ranking members of the Chinese Communist Party. There is no telling what they might do, if they get up close and personal with the United States.
What is also disturbing is that this decision won't be made by Biden, but his surrogates Blinken and Sullivan. Neither of these men has a great track record when confronting foreign powers.
Will Biden even have a say in these negotiations? Who should we trust more, a man whose son got rich from China or his establishment cronies who have bowed to foreign countries before?
You know who we really should trust? The man who put American first for four years.
Too bad he's not in the White House, anymore.
Key Takeaways:
China will reportedly pressure the Biden administration to lift sanctions.
Trump hammered China over reports the country's military and government control businesses.
Biden's staff will meet with Chinese delegates in Alaska this week.
Source: Daily Wire