Joe Biden's Closet Flies Wide Open – During Debate He Admitted He Wants A Surge At the Border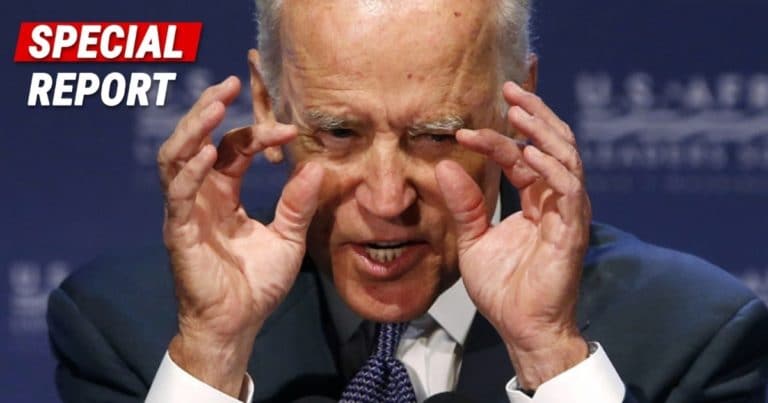 What's Happening:
The Biden administration is flailing over the border crisis. Americans know that thousands of migrants are hammering the border.
Many of them are being turned away. But many more are being crammed into detention centers. Children are separated from their parents, a practice Democrats once claimed was unacceptable (under Trump).
Joe Biden, in response, appears to be pretending that this surge isn't happening. His administration is begging migrants not to come.
But Joe had a very different take on the border, just a short time ago. It seems like he wanted this crisis all along.
From Twitter:
Flashback:

In the first Democratic primary debate, Biden says when he's president, illegal immigrants should "immediately surge to the border" pic.twitter.com/Fq1vCNEN75

— Tom Elliott (@tomselliott) March 17, 2021
Biden: "I would, in fact, make sure that there is, we immediate surge to the border, all those people seeking asylum they deserve to be heard, that's who we are, we are nation that says if you want to flee and you are fleeing oppression you should come."
Back when Biden was safely just a candidate, with no weight on his shoulders, he talked big about helping everyone seeking asylum.
He said he wanted to "make sure" there was a surge to the border.
Biden appears to be rolling out the red carpet, saying to migrants they could "flee" to America. Our immigration laws be damned.
Gee, it's almost as if he was inviting migrants to rush the border, huh? All those people who claimed Biden, "promised them" a free entry into the U.S…
Well, I guess they were right!
We frequently said Biden supported open borders during the campaign. Not everyone believed us, who went on to vote for Biden.
But we have it from the man's very lips. He wanted a surge. He wants to let everyone in, apparently, no questions asked.
Only now, when the burden is his, does he pretend like that's not something he wants. And he's even pretending the crisis is not even happening.
Key Takeaways:
Joe Biden refuses to acknowledge the border crisis as his administration struggles to handle it.
But in 2020, he claimed during a debate he would "make sure" there would be a surge.
Biden appeared to be encouraging people to rush our border, no matter what.
Source: Twitter