Biden And Congress Get Clobbered In New Poll – One Month Into Presidency, Disapproval Rating Takes Sharp Turn Up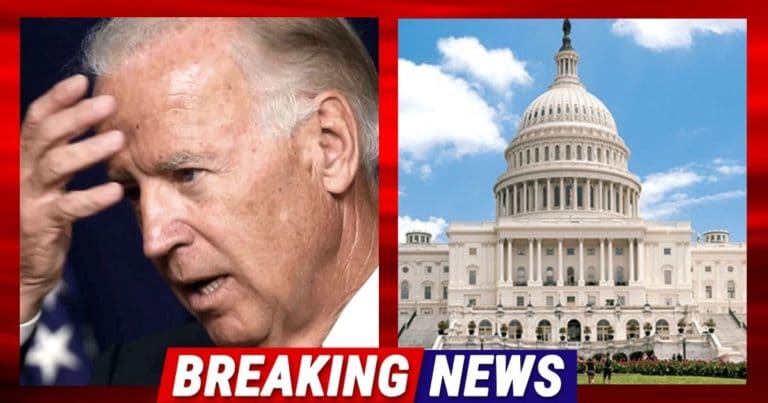 What's Happening:
New polls have come out and they're not great for the Democrats. Not that you'll read about it on any MSM website.
After four years of "resistance," obstruction, and undermining the rule of law, Democrats are back in the driver's seat.
And what do they have to show for one month back in power? Not much. In fact, even liberal outlets are having troubling covering up the many failures of Biden's new administration and the new Congress.
In fact, it's getting so bad, that even in left-leaning polls Biden is stinking it up.
From Fox News:
Biden holds a 51% approval rating in a Monmouth University survey released on Wednesday. That's down slightly from the 54% of Americans who gave the new president a thumbs-up in late January, days after his inauguration…

More noticeable is rise in Biden's disapproval rating – from 30% in late January to 42% now.
A Monmouth Poll spells bad news for Biden as his approval is taking a dive.
It has dropped since January, reaching the more realistic (according to other pollsters) rating of 51%. And his disapproval is steadily growing, up by 12% since January.
B-but… wasn't there a poll that just came out that said his approval was 60+%!??
How can this poll (and daily polls from Rasmussen) show that his approval is slipping?
I guess those glowing polls didn't bother to ask most Americans about how they feel with Sleepy Joe in the White House?
The man has made very few appearances since January. He hasn't given his speech to the Joint Sessions of Congress. He is avoiding public appearances and giving his responsibilities to Kamala Harris.
That does not inspire confidence in most Americans. It's not a surprise that even Democrat approval for Joe is slipping.
Can the man turn this around in the coming months? Not if his $1.9 trillion plan is passed. That bill would hammer the country with new taxes, hurt the economy, and give billions to special interests.
And Americans would hardly see a red penny from it.
I wonder where Joe's approval will be in a year from now (assuming he's still in office)?
Key Takeaways:
Joe Biden's approval is slipping, according to Monmouth Poll.
It has dropped by 4 points in a month, with his disapproval rising by 12.
This, even with the media trying to protect him.
Source: Fox News