Biden Just Went After The Constitution – He Considers Executive Orders To Restrict Citizens' 2nd Amendment Rights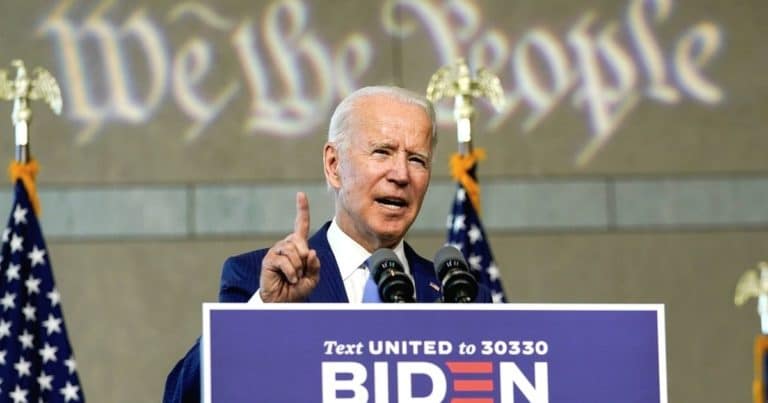 What's Happening:
Never let it be said that Democrats waste a crisis to push their agenda.
Twice in recent days, we have learned of horrible mass shootings. Before all the details were revealed, Democrats gave their obvious response.
Instead of confronting those actually responsible for these crimes, they jumped back on the gun control wagon.
But many of their lofty goals will never happen, because of Republicans and a few pro-Second Amendment senators.
So, Sleepy Joe Biden has promised to find a way to restrict your rights through executive overreach.
From IJR:
Spokeswoman Jen Psaki told reporters Biden is "considering a range" of executive actions to try to stop gun violence. Such actions do not require the approval of Congress.
According to the White House, Biden wants to see if he can restrict gun rights through executive orders, not through Congress.
But that seems to be going against what he said during a debate back in 2019.
From Sacramento Bee:
Former Vice President Joe Biden argued during Thursday night's Democratic debate that the president cannot unilaterally ban so-called assault weapons, highlighting the limits of California Sen. Kamala Harris' gun control proposal. He was correct.
How odd. Back in 2019, Biden said the president cannot use his authority to ban assault weapons, suggesting the very clear limits the office has regarding the Second Amendment.
Yet today, his office is apparently looking at ways to not only ban "assault" weapons, but other extreme limits on the Second Amendment.
This is further proof that the "moderate" Joe Biden from the primaries no longer exists. He has pledged his soul to the progressive left and mindlessly does what they say.
The president cannot dictate his agenda through EOs. Those kinds of orders can only set policy for federal agencies. Only Congress can pass laws that affect American citizens.
But much like his idol Obama, Biden wants to stretch the limits of the office to force his whims. He knows Congress will have trouble passing radical gun control.
So, he wants to find a way to do it himself.
But considering there are more firearms in this country than people, I'm guessing he's going to hit plenty of roadblocks.
Key Takeaways:
Biden is demanding Congress pass extreme, new gun control laws.
His office is considering ways to restrict the 2nd Amendment through EOs.
He previously said presidents do not have that ability, in 2019.
Source: IJR, Sacramento Bee